Energy Control Equipment
Energy Monitoring System:
F-MPC I/O series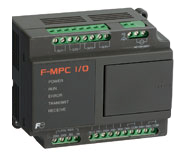 Digital I/O Unit now available to monitor energy usage (electricity, gas, water, etc.) and equipment operating status.

Include a F-MPC Web Unit to easily build a monitoring system.
Sales distributors
Energy Monitoring SystemF-MPC I/O Unit series
The energy monitoring system uses the F-MPC-Net communications protocol to monitor ON/OFF status, measure pulse signals, output alarm relays, and read flow meters.
Use the DI/DO Unit to input ON/OFF signals, count total pulses, and control the ON/OFF status of relay outputs.
Use RS-485 2-wire communications to send input status to a host, control relay outputs with ON/OFF commands from the host, and more.