Best for the control circuit of various operator control panels and apparatus protection, and the circuit protection of an electric device.
Circuit protectors:
F series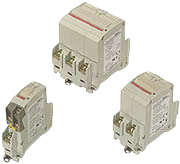 FUJI's compact and high-performance CP-F series circuit protectors incorporate FUJI's advanced technology.
Their thin sizes make them ideal for use as AC/DC line switches in office andindustrial equipment.
250V AC/65V DC (1-pole) 0.1A to 30A
250V AC/125V DC (2-pole) 0.1A to 30A
250V AC (3-pole) 0.1A to 30A
Sales distributors
Circuit protectors:
D series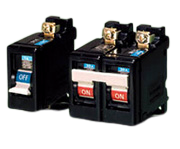 A standard type.
Ideal for control circuits for any types of control panels, or protection of your equipment.
Rated breaking capacity :1 to 2.5kA
Sales distributors