MV Distribution
Air load break switches:
LBS,LB,RF series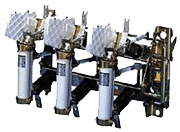 LBS series: Striker mechanism is employed in which the striker opens the switches automatically when the fuse blows.
LB series: Wide variation is available by combining each unit's functions and the combination is easy to rearrange.

FUJI air load break switch type LBS is provided with current limiting power fuses and type LB is not so fitted. Both types are compact and incorporate arc-extinguishing devices of FUJI's own design. The arc is drawn into a long narrow chamber with close clearances in which the gases are rapidly cooled and dispersed. Contact points therefore wear very slowly, so giving switches a long service life. FUJI air load break switches are recommended for use with power capacitors and transformers.
Sales distributors
Features
Excellent arc-extinguishing characteristics
The arc-extinguishing system uses a gas-cooling method. This results in less contact wear than that of comparable oil-immersed types, so ensuring a longer service life and lower maintenance costs.
Light and compact design
The load break switch and fuses are incorporated into one body and are ideally suited for H.V. cubicle or metalclad switchgear assembly applications.
High current-limiting power fuses
The LBS type is provided with FUJI power fuses so ensuring an accurate and uniform interrupting performance.
Economical first cost
The use of these fuses eliminates the need for circuit breakers with trip mechanisms, and so reduces initial installation costs.
Safe fuse replacement
Fuses can easily be replaced or changed to different ratings in perfect safety.
A shunt trip mechanism
A trip mechanism can be attached to LBS and LB having 100 and 200 Amps ratings. It can be tripped remotely.
Blown fuse indicator
LBS and LB200 to 400 Amps rated switches can be supplied with a blown indicator limit switch attached for remote indication use.
Auxiliary contacts
All these switches can be attached with 2NO+2NC 15 Amps switches.
Motor-driven-types available
The standard versions are for stick operation. Motor-driven versions are also available. For further details please contact FUJI.
LB Type
3.6kV/7.2kV up to 600 Amps 3-pole
3.6kV/7.2kV 200 and 400 Amps 3-pole with power fuse
The LB-type air load break switches are provided with the following major features:
1.They have been down-sized so that they can be installed in compact cubicles.
2.An improved interrupting performance and greater operating safety, achieved through a rotating arc contact and redesigned arc chute.
3.Accessories are built using a modular system, so that power fuse frames, gang-operated mechanisms and auxiliary swithches can easily be added to the main switch body as required. These can be fitted in position on site without adjustment.
In addition, the shunt trip mechanism (f) can be incorporated into the basic frame. Previously they were regarded as accessories. If shunt trip is required f suffix should be added to the type number when ordering. Shunt trip mechanisms are factory-fitted before shipment. Please note that the R290B or R293B remote gang-operated mechanism cannot be incorporated with these shunt trip mechanisms. Those LBtype air load break switches of 200AF and 400AF can be fitted with power fuses. However, even if the LB-type units have 400AF ratings, power fuses up to 200 Amps only are required.
LBS Type
3.6/7.2kV, 200 Amps 3-pole
The LBS is an air load break switch with attached power fuses. A striker is incorporated into this unit, a feature which is not found in conventional load break switches.
The striker is a trip mechanism which operates the moment the fuse blows. When this occurs the striker causes all 3-pole to open at the same time. If air load break switches do not have this striker feature it is possible for some of the phases to remain alive after the fuse has blown, so resulting in a dangerous situation. This FUJI feature adds to the safety of the electrical system. As LBS-type air load break switches are provided with a built-in auto trip mechanism the R290B and R293B remote gangoperated mechanisms cannot be fitted.
RF Type
12/24/36kV up to 1200 Amps 3-pole
The RF-type load break switch consists of a main blade, an auxiliary blade and an arc chute. The auxiliary blade is located at the arc chute and connected with the main blade. It will make contact at the same time as the main blade. The auxiliary blade will be momentarily held in contact in the arc chute at the time when the main blade opens. Once the main blade has reached the limit of travel the auxiliary blade will rapidly return to its position against the main blade under the influence of stored energy in the spring. This quick-break device functions effectively even when manually operated, and since the contact moves at high speed the arc is rapidly elongated and gas-cooled in the arc chute.