Supporting smaller and thinner operator's panels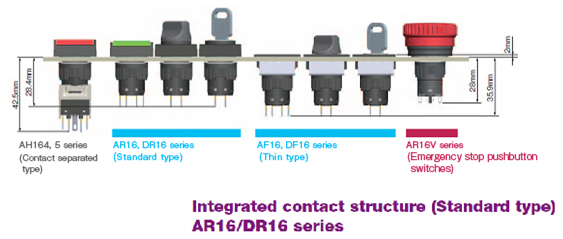 A structure that integrates operator and contacts to reduce panel-mounting depth.
Terminals extending to the rear of the switch ensure easy wiring work.
Standard type : 28.4mm deep
Thin type : 35.9mm deep
Emergency stop : 28mm deep
A wide variety of sockets reduce wiring work
The switches are combined with the sockets of many variety to make wiring work simple and easy.
Contributes to attractive panel design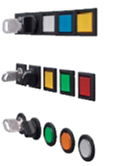 In addition to the standard type, a slim type with a panel protrusion for barely 2 mm is available, allowing high-density mounting for attractive panel designs.
The insertion/extraction life of the key is greatly extended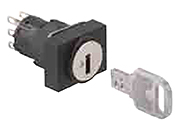 The key selector switch with a pin tumbler type key (reversible type) built in. Insertion/extraction performance and durability of the key improved.
• Six key types are available.
• The pin tumbler construction improves security.
Brighter illuminated surface-Dedicated LED Lamp
Less power consumption helps to save energy.
A longer service life helps to reduce maintenance costs.
Degrees of protection IP65
The operator has IP65 protection for smooth operation without adverse effects from oil, water, or dusts.
Used in various installations, from machine tools to OA equipments.
Standard models meet international standards
Standard models meet UL/CSA requirements, China Compulsory Certification (CCC) standards, and TÜV EN standards. making them ideal for equipment for export.
Note: Pushbuttons, Pilot lights shipped as single articles to China must conform to the Product Quality Law. Check with your Fuji Electric representative