LV Distribution
Semiconductor protection series,
Plug-in type(BLC)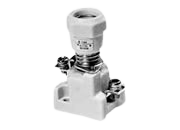 Based on a plug typed current limiting fuse, this model reduces the total clearing I2t, as a high-speed current limiting fuse for the purpose of semiconductor protection.

The FUJI BLC type is an extremely reliable fuse which has been specially developed to provide protection for silicon diodes and thyristors and is suitable for inverters using semiconductors or transformers-rectifiers.
FUJI Super Rapid Fuse is designed with a very small total I2t value which gives it a high speed interrupting action in the face of abnormal currents. In addition, the arc voltage generated at the time of interruption has a low value so that faults will not influence related electric machinery and equipment.
This fuse can carry out theprotection of many types of circuits rating from the semiconductor overcurrents to destructive short-circuiting faults-i.e. when the semiconductor short or circuits fail the sound elements will be quickly isolated from the fault circuits.
Sales distributors
Compact design and easy to handle
Small outlined dimension and D-type shape (vertical structure-base design) for easy handling and replacement.
The total clearing l 2 t is small.
Semiconductor circuit can be completely protected than general D type fuse-link (BLA).
High breaking capacity
The breaking current is AC550V 100kA (a symmetrical value)
Covering for a charger
A charger cover is attachable to the surface connection base up to 30A. With the surface connection base, a charger of all rates can become unexposed.