Control
Proximity switches, Magnetically operated reed switches slot type:
PM1U series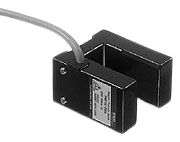 Slot type switches ideal for conveyer application such as elevators or multi-level parking lifts.

Due to its stable characteristic ensured by the 35mm of slot insertion depth.
This is the optimum choice for locating ferromagnetic-material plate passing through the switch slot.
Sales distributors
PE-X3D series
Stable switch operation is ensured by inserting the object for detection 35mm into the switch slot.
Ideal for detecting the position of a ferromagnetic-material plate passing in the switch slot.
Magnetically operated switch using a sealed contact is never affected by electrical noise, ensuring highly reliable detection.
The built-in permanent magnet enables switching of both AC and DC signals without using a power supply.
Models with an output indicator are also available.
Our advanced design assures superior environmental protection complying with IP67 (IEC).