Energy Control Equipment
Integrated power monitoring units:
F-MPC04 series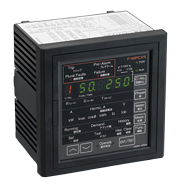 Integrating necessary functions for power distribution/ information control for electric circuit/ energy monitoring into one device.

Integrating complete functions required for power distribution and power line data management in a single unit (up to 10 circuits for 3-phase 3-wire system)
Sales distributors
F-MPC04 features
Supports multiple power distribution lines
UM04 allows economical management of each facility and installation by means of communications interface.
Easy mounting to existing switchboards
Split-through type CTs enables UM04s easy mounting to existing boards.
Flexible energy management
UM04 manages power line data such as measurement, preventive maintenance, maintenance and electricity quality, and transmit those data to upper level controller, thus promises energy and labor-saving.
Harmonics current measurement
The third, fifth, seventh, and total harmonic current can bemeasured.
Monitor insulation deterioration and implement preventive maintenance by measuring leakage current. Provides deterioration trend analysis with trend data and preventive maintenance with 2-stage output (leakage current pre-alarm and leakage current relays).
Compatible with MODBUS RTU protocol
Select between the MODBUSRTU protocol or the F-MPC-Net protocol for the F-MPC series.
Handles digital input
Four inputs (ON/OFF status and pulse count digital signals) from the relay connector terminal block.
Related Equipment
Molded case circuit breakers with ZCT and split type current transformers are also introduced as related products, RS16 Terminal Relay which outputs leakage current pre alarm and the connector terminal-block which outputs kWh pulse, are also explained (UM04 use only).