MV Distribution
Vacuum circuit breakers:
Multi VCB series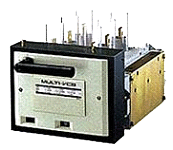 A standard-type VCB. A draw-out type is applicable for a board with a width of 500 mm and depth of 700 mm.

7.2/3.6kV, 400A, 600A, 8kA, 12.5kA
The new Multi-VCB series of generalpurpose vacuum circuit breakers are based on the conventional HA series and feature improved safety and ease of use. With 2300mm high switchgear cubicles they can be stacked up to four high with consequent saving of installation space. Multi VCBs are available in different mounting version such as the fixed type (B, C, P) and draw-out type (X, Y, U).
JIS C4603
Sales distributors
Features
Highly reliable and safety closing system
Manual-spring stored energy closing system for improved operation safety, reliability, and constant closing speed.
Half the torque formerly required for the manual operation and a new-turntype handle improve operability.
Motor-spring stored energy type also improved
Instantaneous closing system
The new closing system ensures instantaneous closing time of 30ms. during switching to stand by circuit.
AC/DC control circuit