Control
Pushbuttons, Pilot lights:
AM22/DM 22 series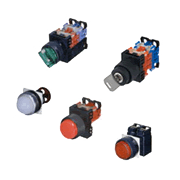 Added a front tightening nut system model to the Φ22 series.

The full range of the contact blocks and transformer units suitable for the AR22 and DR22 series may also be fitted to the AM22 and DM22 series. Easy to add or replace name plate and etc., by front tightening nut system. Safer model with metal nut is also available.
UL508,CSA C22.2 No.14,TÜV: EN60947-5-1,EN60947-5-5(Emergency stop psuhbutton),CCC:GB14048.5
Sales distributors
Quick-replacement contact blocks and transformer units
The snap-on construction makes replacement and addition of contact blocks and transformer units very simple and straightforward.
Oil-and dust-proof operator module construction
The protection level of the AM22/DM22 operator modules conforms to IEC Standard IP65. The special seals protect the operator modules and switch mechanisms against oil, dust, and grime, thus ensuring high performance in dusty and moist environments.
Miniaturization
Pushbutton and selector switches with1NO+1NC: 40mm deep
Pilot lights: 35mm deep
The transformer now occupies far less space.
Self-cleaning contacts
All the contacts are double break type and feature self-cleaning action.
Every time the switch is operated, the contact surfaces are wiped with asliding movement, thus ensuring high contact reliability even at low voltage and small current levels (5V, 5mA).
Metal nut
Safer model with metal nut is also available
Wiring
Wiring from two directions is possible.
Wiring in both vertical and lateral directions facilitates wiring in narrow spaces.
Color coding of contact blocks makes wiring easy.
1NO: Blue, 1NC: Red
Lamp terminal and transformer unit: Black
Safety
A terminal cover is provided, assuring safety and security.
FUJI's original Trigger Action mechanism is used in the emergency stop pushbuttons. They are suitablefor emergency stop and safety. This mechanism prevents the contacts from moving until the button is pushed and locked.
Protection
Excellent oil-tight construction (IP65) of the operator.
Closure of the contact block has been improved.