Super timers:MS4S,ST7P series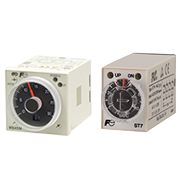 MS4S
DIN48 sized analogue timer
Adopting sexagesimal conversion-free, direct-reading time-scale
The MS4S is a timer with four operation modes.
The on-delay, flicker, one-shot or signal off-delay operation modes can be selected.
ST7P
The ST7P is a highly efficient miniaturized on-delay timer.
The maximum timing interval is 12 hours.
Sales distributors
Instantaneous stop restart relay:MB4 series

Reduce workloads of the power supply in an industrial unit by having automatic restart as a staggered starting method in sequence during the time of instantaneous voltage interruption.
Sales distributors