MV Distribution
Vacuum circuit breakers:
Auto. V series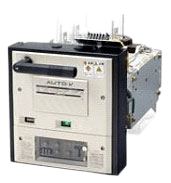 Excellent in economy.

7.2/3.6kV, 400A, 600A, 8kA, 12.5kA FUJI Auto. Vs are vacuum circuit breakers which incorporate a built-in solid-state OCR and CT.
As they do not require to have a CT installed inside the switchgear cubicle or an OCR fixed to the front panel, space is saved in the cubicle and wiring and installation are simplified.
A system protection is easily arranged using Auto. Vs with primary circuit breaker and also a protective coordination with low voltage MCCBs.
The CT is a compactly built toroidal type and it is fitted to the upper part of the VCB. Its overcurrent withstanding value is as large as 12.5kA, 1 sec.
JIS C4603
Sales distributors
Features
Built-in solid-state OCR and CT are provided
System protective coordination is easily arranged using the VCBs.
Compactly assembled, so saving space
The built-in CT has a large overcurrent withstand value of 12.5kA.
The setting range of the rated current is 24A to 320A.
Applicable to the receiving and distribution facilities of 6kV, 170 to 2000kVA.