Control
Pushbuttons, Pilot lights:
AR22/DR22 series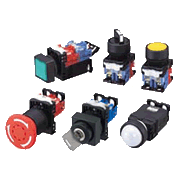 By adopting the release arm system, ingenious super-effortless mounting is implemented, with consideration of work efficiency.

The AR22 now uses a release arm with a wedge mechanism developed by FujiElectric FA. This enables you to mount or remove the operator and contact block without using any tools. When fitting the switch to a panel, you can ignore the panel thickness. You have only to secure the
operator with a locking nut from behind the panel without any need for adjustment.
UL508,CSA C22.2 No.14,TÜV: EN60947-5-1,EN60947-5-5(Emergency stop pushbutton),CCC:GB14048.5
Sales distributors
Miniaturization
Pushbuttons and selector switches with 1NO+1NC: 41mm deep
Pilot lights: 37mm deep
The transformer now occupies far less space.
Easy replacing contact block and transformer
Because of a snap-on mounting, replacement or addition of the contact block and transformer unit is very simple.
The contact block is common to all the pushbuttons of this series.
Contact block is easily replaced even when the pushbuttons are mounted closely together.
Replacement of the contact block can be done with a screwdriver, without the need for any special tool.
Wiring
Wiring from two directions is possible.
Wiring in both vertical and lateral directions facilitates wiring in narrow spaces.
Color coding of contact blocks makes wiring easy.
1NO: Blue, 1NC: RedLamp terminal andtransformer unit: Black
Safety
A terminal cover is provided, assuring safety and security.
FUJI's original Trigger Action mechanism is used in the emergency stop pushbuttons.
They are suitable for emergency stop and safety.
This mechanism prevents the contacts from moving until the button is pushed and locked.
Reliability of safety functions increased by integrated operator and contact block construction. (AR22VG)
Protection
Excellent oil-tight construction (IP65) of the operator.
Closure of the contact block has been improved.