Energy Control Equipment
Power monitoring unit:
F-MPC Web series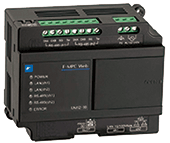 An economical unit for connecting the F-MPC series unit to the Ethernet

The F-MPC Web unit is a device that connects the FUJI F-MPC series energy monitoring unit to Ethernet. The F-MPC Web unit makes it possible to construct an energy monitoring system over an Ethernet LAN for OA equipment and PCs.
Sales distributors
Feature of F-MPC Web unit
■ Enables Ethernet communications.

- Auto negotiation for 10BASE-T/100BASE-T.
- Transmits electric power monitoring data over Ethernet.

■ Communicates with FUJI electric power monitoring equipment.

- Communicates with FUJI energy monitoring unit via RS-485.

■ Web server function

- Allows settings to be made using a standard browser window.

■ Data accumulation function

- Accumulates 40 days' worth of daily reports and 13 months' worth of monthly reports.
- Transmits accumulated data in CSV file format to host devices.

■ Compact size with a depth of 60 mm

- 100 x 80 x 56 mm (W x H x D).
- DIN rail or M4 screw mounting.

■ Wide power supply range

- Control power supply voltage of 100 to 240V AC.