MV Distribution
Vacuum circuit breakers:
HS series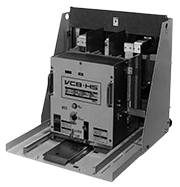 Standard typed VCB. Product line ranges from 3.6 to 36kV.

These types are available in all ratings from 3.6 to 36kV, and can be applied to a variety of H.V. switchgear. The motorspring stored-energy types feature autoreclosing.
The HS types are comparatively high in breaking current with ratings of over 7.2kV, 20kA.
• Breaking currents: 12.5kA to 50kA
• Rated voltage: 3.6kV to 36kV
• Standards: JEC, IEC
Standards: JEC, IEC
Sales distributors
Description
HS type 3.6kV to 36kV up to 63kA. FUJI HS series vacuum circuit breakers are designed to meet the many special needs of industry.
The vacuum interrupter system employed reflects the latest technology. The circuit breaker has a very stable and constant breaking performance over a wide range of currents up to the rated short circuit current value.
The motor spring type (M) closing system can perform high speed reclosing.
The contacts are made of a special alloy and require no maintenance over their long life time.
The interrupter is provided with a contact-wear indicator which gives notice when replacement is required.
The open and close positioning indicator, operating counter, pushbutton for manual interruption and manual closing device are conveniently installed on the control section of the dead-front operating panel, and are isolated from the high-voltage breaking section for safety reasons and to facilitate operation and inspection.
FUJI VCBs comprise the fixed mounted (P) type and cradle (X and Y) types. Since the cradle version is provided with a draw-out system switchgear assembly is easily carried out.