G-TWIN series for DC applications
Circuit breaker compatible with DC750V and 1000V circuit, ideal for photovoltaic facilities.
Circuit breaker compatible with DC750V and 1000V, is ideal for Junction box and power conditioner use for photovoltaic power generation.

As the growing needs for eco-friendly facilities and installation, the cases utilizes DC breaker meant for photovoltaic installation, UPS, and storage battery have been on rise. Answers to customers needs by proposing the product lines with DC breaker suitable for power conditioner (PCS) of industrial photovoltaic power generation.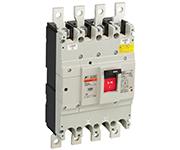 Product Descricption
Design features
Same dimention for G-TWIN 400-800AF.
3 pole covers up to DC750V, 4 poles up to DC1000V.
internal and outer accesories share the specifications with G-TWIN series.
Compliance with international and domestic standards. JIS, IEC, EN (CE Mark) *UL application under review.
Non-automatic trip(Load break switch) is also available.
Types and Specifications
Ampere-frame
400
630
800
Type
BW400RAG

*1

BW630RAG

*1

BW800RAG

*1

Pole/Element
3P3E
4P4E
3P3E
4P4E
3P3E
4P4E
Rated insulation voltage Ui〔DC V〕
750
1000
750
1000
750
1000
Rated impulse withstand voltage Uimp〔kV〕
8
Rated current〔A〕
250,300,350,400
500,600,630
700,800
Rated breaking capacity〔Icu/Ics〕
IEC/EN/JIS
DC1000V
-
5/5
-
5/5
-
5/5
DC750V
10/5
10/5
10/5
10/5
10/5
10/5
Tripping device
Thermal-magnetic
Type (Non-automatic trip)
BW400RAS

*1

BW630RAS

*1

BW800RAS

*1


Dimensions,mm

a
140
185
210
280
210
280
b
257
275
275
c
103
103
103
d
146
146
146
*1 Please specify "C8,C9,D8,orD9" at the tail end of the type according to the method of installation.
400AF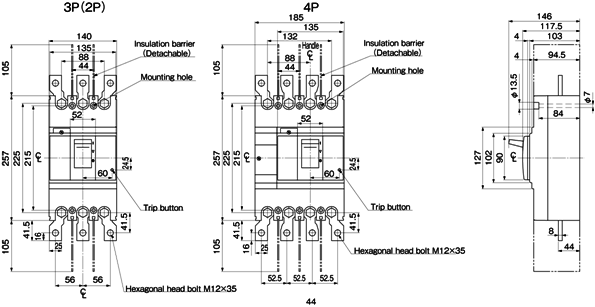 630/800AF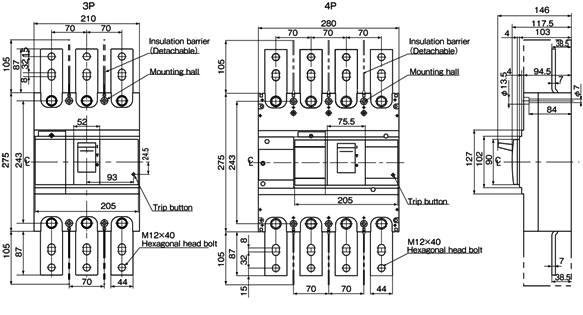 Wiring Diagrames SC-03,SC-0

Contact about this product