Control
Inductive proximity switches Square type:
PE-B series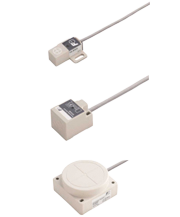 Square type for easy set-up
Wide product range from a super compact type of 4mm operating distance to a 50 mm long distance model

• 4mm to 50mm operating distance
• Types with operating distance exceeding 20mm conform to theCENELEC Standard.
• Operating voltage range:80 to 250V AC or 10 to 30V DC
IEC60947-5-2
Design features
Operating distance from 4mm to50mm permits a variety of applications.
LED's for operating indication lamp are provided for all types thus facilitating operation checks.
Ones with an operating distance of over 20mm meet the requirements of the CENELEC Standards.
Wide operating voltage range.
Operating range of supply voltage is from 80 to 250V AC or from 10 to 30VDC.
Provided with built-in reverse polarityand surge voltage protection circuits.
PNP output types are also available thus permitting application tomachine tools in Europe.