LV Distribution
Solid-state type breaker:
S series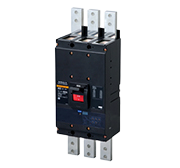 FUJI solid-state type circuit breaker equipped with micro-computer controlled multi-functional electronic trip device with rated current switching function, adjustable function for tripping characteristics, and pre-alarm function. In response to enhanced electric installation, this circuit breaker provides high reliability and full range of protections.

IEC 60947-2, JIS C8201-1
Sales distributors
Design features
Equipped with a load current pre-trip alarm
Constantly monitors the load current, and outputs an alarm when the set current is exceeded.
Adjustable rated current
The rated current is easy to vary in 5 to 6 steps using an adjustment dial.
Wide-range-adjustable trip characteristics The current and time for instantaneous tripping and short-/long-time delay tripping can be set by the user.
Adjustable ground fault tripping determinate and set a current level for ground fault detection in the ranging between 10% to 40% of the rated CT current.