MV Distribution
Vacuum magnetic contactors:
HN series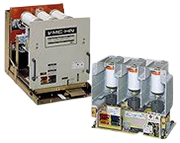 Answers various clients' needs such as installation method, operating voltage, or other. AC/DC compatible, equipped with IC tip in the operating circuit to ensure further reliability in operation.

HN-type vacuum magnetic contactors incorporate a SUPER MAGNET that has a built-in IC. The IC minimizes the power consumption used in the closing circuit. HN types vacuum magnetic contactors operate on both AC and DC power supplies. A common insulating frame for units with a rated voltage of 3kV and 6kV simplifies switchgear design.
Sales distributors
The SUPER MAGNET
Holding currents are minimized with an IC-controlled closing circuit. This is a cost-effective feature.
Both AC and DC power supply operation possible.
The SUPER MAGNET holds without chattering even when the line control voltage drops.
The SUPER MAGNET's wide range of operating voltages allows it to be used in countries throughout the world.
Shared insulating frame for 3kV and6kV contactors
HN type vacuum magnetic contactors have a special insulating frame. The dimensions of the frame are the same for both 3kV and 6kV models, which facilitates switchgear design.
Advanced vacuum interrupter
A high performance interrupter minimizes surges due to closing and breaking, which makes special surge precautions unnecessary.