Control
Display lights:
DP24, 36, 40, 48 series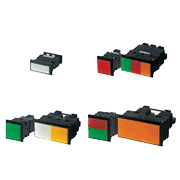 Improved safety achieved by excellent visibility and unified structure with quick terminal and live section cover.

High luminance with brilliant colors (LED illuminated products), pure white and blue products are available. Significant reduction of power consumption and product mass.
Fuji Electric's unique quick terminal and live section cover in a single unit facilitate efficient wiring and improved safety.
Sales distributors
High luminance and brilliant colors (LED illumination)
LED products adopt high luminance model, "PIKARI-KUN," with 7 colors available, including pure white.
Integrated quick terminals and live section covers
Fuji Electric's unique quick terminal (screw-in structure) prevents screw loss and facilitates efficient wiring.
Improved safety by integrating live section cover into the main unit.
[Quick terminal]
1. Screws are held in an up-position, allowing you to connect a line quickly without unscrewing. This expedites wiring tasks.
2. When unscrewing, the screw is held in an up-position. No chance of losing screws.
Earth Leakage Circuit Breaker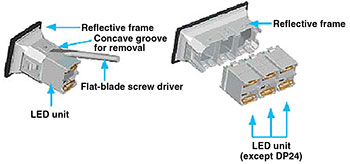 Unit composition facilitates easy replacement and rearrangement of color parts.
(Transformer type 230V product or above, and flicker unit type are fitted with LED.)
Zoom
Preventive circuit for error lighting included
The LED unit includes a circuit that prevents unintended lighting due to induction voltage or leak current.
Minimized depth
Products with 110 V, 127 V and 220 V LED come in transformer-less model, significantly reducing the depth compared to products with transformer (2/3 of previous models in depth).
A short body (D: 50 mm) range is available for LED 24 V products without quick terminal structure (DP36, 40).