Energy Control Equipment
Mult-circuit power monitoring units:
F-MPC04P series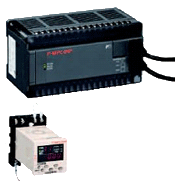 Digital multifunctional meter combines all the necessary measuring functions for power monitoring. Capable of multi-circuit measurement by itself.

Integrating necessary measuring functions for energy monitoring into one unit.
Sales distributors
F-MPC04P features
A single unit measures multiple circuits
A single UM02 can measure up to 8 feeders in 3-phase 3-wire,12 feeders in single-phase 2-wires and up to 4 feeders in 3-phase 4-wire circuit.
Easy installation into existing switchboards
Compact UM02 can be easily installed into on-site powerdistribution or lighting panel, irrespective of new panel orexisting panel, to create power monitoring systemeconomically.
On-site measuring instrument
UM02 can be used an on-site measuring instrument by combining with an optional display and setting unit UM02X-S.
Communication interface
As UM02 has an RS-485 communications interface as standard, it can communicate with other power monitoringequipment with RS-485.