LV Distribution
Circuit protectors:
D series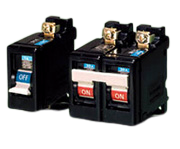 Ideal for control circuits of all types of control panels, or protection of your equipment.

The CP31 and CP32 have a similar functions to a molded case circuit breaker and they can be used for normal switching ON and OFFoperations while breaking bothoverload and short-circuit currents.
They are available in two time - current versions — an instantaneous and a time-delay version.
A suitable type should be selected to match the thermal and permissible current requirements.
These are recommended for sequential control circuits, motor control circuits, solenoid-operated valves, heaters and solid - state applications.
Sales distributors
Excellent arc interruption. Since the arc extinguisher uses a loop blow-out system, the arc is rapidly extinguished.
Highly visible handle indication. "ON" shows red and "OFF" or "TRIP" blue.
When positioned at "ON", the operating handle is completely housed insidethe molded case and does not protrude. This helps to prevent erroneous operation.
Trip-free mechanism
Also available with auxiliary switch SPDT.
Two time-current versions—instantaneous operation and a time-delay type. Select the model best suits your protection needs.
CP31D and CP32D types are of front and rail dual mounting.