Motor Control
Standard type magnetic contactor:
SC-E series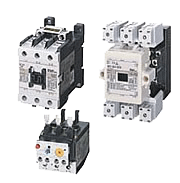 SC-E series take the line-up to the next step in utility with a new finger protection terminal and box lug terminal construction.

Models SC-E02 to SC-E4 have a 3-pole main circuit structure.
Available in three frame sizes, 43mm, 54mm, and 67mm wide, they enable a significantly reduced mounting area.
Models SC-E5 to SC-E7 use an IC-controlled SUPER MAGNET to ensure high operating reliability.
IEC 60947-4-1
EN 60947-4-1
VDE 0660
JIS C 8201-4-1
UL 508
CSA C22.2
Sales distributors
SC-E series features (SC-E & TK-E)
International standardization
IEC 60947-4-1, EN 60947-4-1, VDE 0660UL 508, CSA C 22.2, JIS C 8201-4-1
Compactness
SC-E02 to E05: 43mm wide, SC-E1 to E2S: 54mm wideSC-E3, E4: 67mm wide, SC-E5: 88mm wide
Reducing mounting area
Safety
Terminals with finger-touch protection (DIN 57106/VDE 0106 Teil100)
Utility
Box lug terminal construction
Long electrical life
Reduction of wiring work
Ecology
Reducing power consumption
Recycled thermoplastic resin used for plastic parts.
The names of materials are indicated on all major parts to facilitate their recycling.
Feature of TK-E series
This relay protects motor windings from burning due to overloads, locked rotor current, or phase-loss.
Maintenance and inspection safety has been improved by employing a finger protection mechanism to cover exposed terminals
(conforms to DIN 57106, VDE 0106 Teil 100).
Isolated NO and NC contacts can be used with different potentials.
A high-precision scale for the current adjustment dial enables easy and exact current setting.
The operating status can be visually checked with ease.
The relays can be manually tripped. A trip-free mechanism is also provided.
Base unit can be added to enable separate-mounting types of the TK-E02, E2, and E3 models.
Accessories
A full range of accessories with emphasis on utility.