Control
Relay and terminal module:
RS series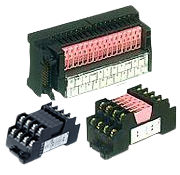 Slim RS4, RS6 type model with 34mm width
RS16 type model with 16 contact compact terminal relay with industry's narrowest width

■Relays-and-terminal module RS4 , 6N
A very compact, space-saving terminal module containing four or six relays with one NO contact.
■Relays-and-terminal module RS16
16-point relays-and-terminal module with the smallest widthin its class.
UL 508,CSA C22.2,TÜV (EN61810-1)
Sales distributors
RS4 , 6N design features
The RS series relays-and-terminal module consists of four or six plug-in relays (RB105, 1NO contact or RB011,1NC contact) and a terminal module with screw terminals.
This relays-and-terminal module is ideal for interfacing electronic control devices (such as PLCs or photoelectric sensors) with output devices (such as solenoid valves and magnetic contactors).
The use of ultra-small, high-sensitive relays has realized a compact size of 34mm wide and 69mm long, including screw terminals (RS4N type).
Input terminals are located in the upper part and output terminals in the lower part of the module to separate them from each other, thereby making wiring easy.
The terminal module uses RB105 or RB101 card relays. For replacement, please specify the card relay type and coil voltage.
Built-in coil-surge suppression diodes and operation indicator LEDs simplify circuit design and maintenance.
The module is quickly-mountable on a DIN 35mm rail.
The RS4N module includes two standard accessory jumper plates, which are convenient for common wiring of terminals.
RS16 design features
Most compact in its class. Outside dimensions are 110mm (W), 52mm (D), and 37mm (H). The width is the smallest in this class.
Push-to-set (quick-connect) terminals for easy wire connection.
A unique terminal structure enables quick and easy crimp terminal connections without removal of screws (No more lost screws).
Clear LEDs indicate relay output status. Each relay has an LED to indicate its ON/OFF status.
A surge suppressing diode is provided for each relay coil.
Terminal cover with label for marking device Nos.
Built-in relay remover.
DIN rail quick mount and panel-surface mount using screws.
SSR output design features
SSR output (AC and DC)
Provided with a miniature SSR with the same dimensions as the RB-series miniature card relay resultingin a longer service life and making it ideal for highly frequent switching.
Slim 34-mm body
Slim 34-mm design for all models up to 16-pole models allowing significant space savings within the panel.
Both surface mounting and DIN rail mounting are possible.
Provided with operation indicators.
Easy relay maintenance with special socket (type TP04).
RZ4N finger protector also available (Sold separately.).