Control
Super timers:
MS4S and ST7P series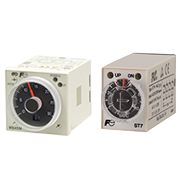 MS4S series
Direct-reading time-scale and compact body .
ST7P series
Miniature size Super Timer

■MS4S series
MS4S series Super Timers feature an easy setting and direct-reading system of four time-scale.
●Operation
MS4SM : Multimode operation type
MS4SA : On-delay operation
MS4SC : On-delay operation with instantaneous contact
MS4SF : Off-delay operation
MS4SY : For star-delta starting
MS4SR : Repeat operation
●Timing range
 0.05sec to 60hours
●Soket
 ・Surface mounting
 ・Flush mounting

■ST7P series
compact and highly accurate Super Timers.
●Operation
 The ST7P and ST7B are on-delay operation types.
●Timing range
 0.06sec to 24hours
●Soket
 ・Screw terminal, rail mounting
 ・Soldering
 ・Wire wrap
 ・PC board.
〔MS4S series〕
IEC61812-1(MS4SM,S,C),UL508,CSA C22.2,TÜV 「EN61812-1],CCC [GB14048.5]
〔ST7P series〕
IEC61812-1(STP-2,-4),UL508,CSA C22.2,TÜV [EN61812-1],CCC [GB14048.5]
Sales distributors
Design features of MS4S series
Time-scale indication window and time-scale selector
By turning a time-scale selector, thetiming-scales appear in the indication windows one set a time. Although this is a multimode timer, the optional times such as 56 or 27minutes can be easily set with the direct-reading time-scale.
Compact timer with instantaneous contact
On-delay timers with instantaneous contact, as well as multimode and on-delay timers, are compact. The front to back length of the timers is only 66.5mm.
Operation mode indication window and operation mode selector
Four operation modes are provided(MS4SM type only).
By turning the operation mode selector, the on-delay, flicker, one-shot, or signal off-delay operation mode can be selected. The presentmode is shown in the operation mode indication window with the marks PO, FL, OS or SF.
LED power ON and output indicator
The power-source lamp (Green) is lit when power is on and flickers during timer operation.
The output lamp (Red) is lit when the timed NO contact is on.
Wide range of AC supply voltage
Supply voltages of 100 to 240V AC are commonly available (ordering code: AP type only).
Instantaneous operation function with 0 indication
When the timer dial is set at 0, output is given instantaneously, allowing sequence checks to be performed easily.
Time unit indication window and time unit selector
By turning the time selector, time units of 0.1 sec., sec., min, and hours. can be selected and made to appear in the indication window.
Improvement of resistance to waveform distortion
The resistance to distortion of secondary voltage waveform of the power supply caused by inverters and uninterruptible power supplies (UPS) is improved.
UL, and TÜV approved
Design features of ST7P series
These Super Timers are highly accurate.
Their repeat accuracy is less than ±1% at maximum setting time.
Timing range
ST7P and ST7B are the single timing range types; 0.06 sec. to 24 hours.
The large setting dial makes time setting easy.
The LED indicators make it easy to check timer operation.
The ST7P has been approved by the UL, and TÜV.