MV Distribution
Disconnecting switches:
V series,RF series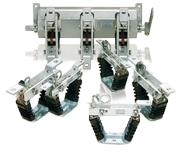 Reliable disconnecting switches that have been chosen by customers for a long time. Small, light, and easy-to-operate. It is easy to mount them on cubicles.

FUJI high voltage disconnecting switches comprise the V and RF types.
The small size and lightness of the V type disconnecting switches make them highly suitable for cubicle use.
They make use of FUJI's specially designed coil spring, a line-contact and ball contact (RF type) system which gives them a high efficient operation without overheating.
V type disconnecting switches are not provided with latches but their design will not permit them to be opened by magnetic force. Switches provided with latches can also be supplied upon request.
Sales distributors
Features
7.2/12/24/36kV, 200 Amps to 4000 Amps
Withstand large momentary current flow
Excellent contact performance
Compact and light in weight
Heavy-duty construction
Stick-operated/gang-operated/motor operated types