Railroad - Power Electronic Equipment for Rolling Stock
Rolling stock use many different types of power electronic equipment such as main motor drives, auxiliary power supply units, air conditioning equipment and door operating devices. This page provides information on Fuji Electric power semiconductor products that are ideal for the power electronics of railroad cars.
Main Converter Circuit Example
These are examples of the main motor drive circuit configuration. The voltage may be either AC or DC. For AC, after passing through the transformer, the power is converted to DC by the PWM converter and then the main motor is driven by the VVVF inverter.
Example of Main Converter for AC Powered Trains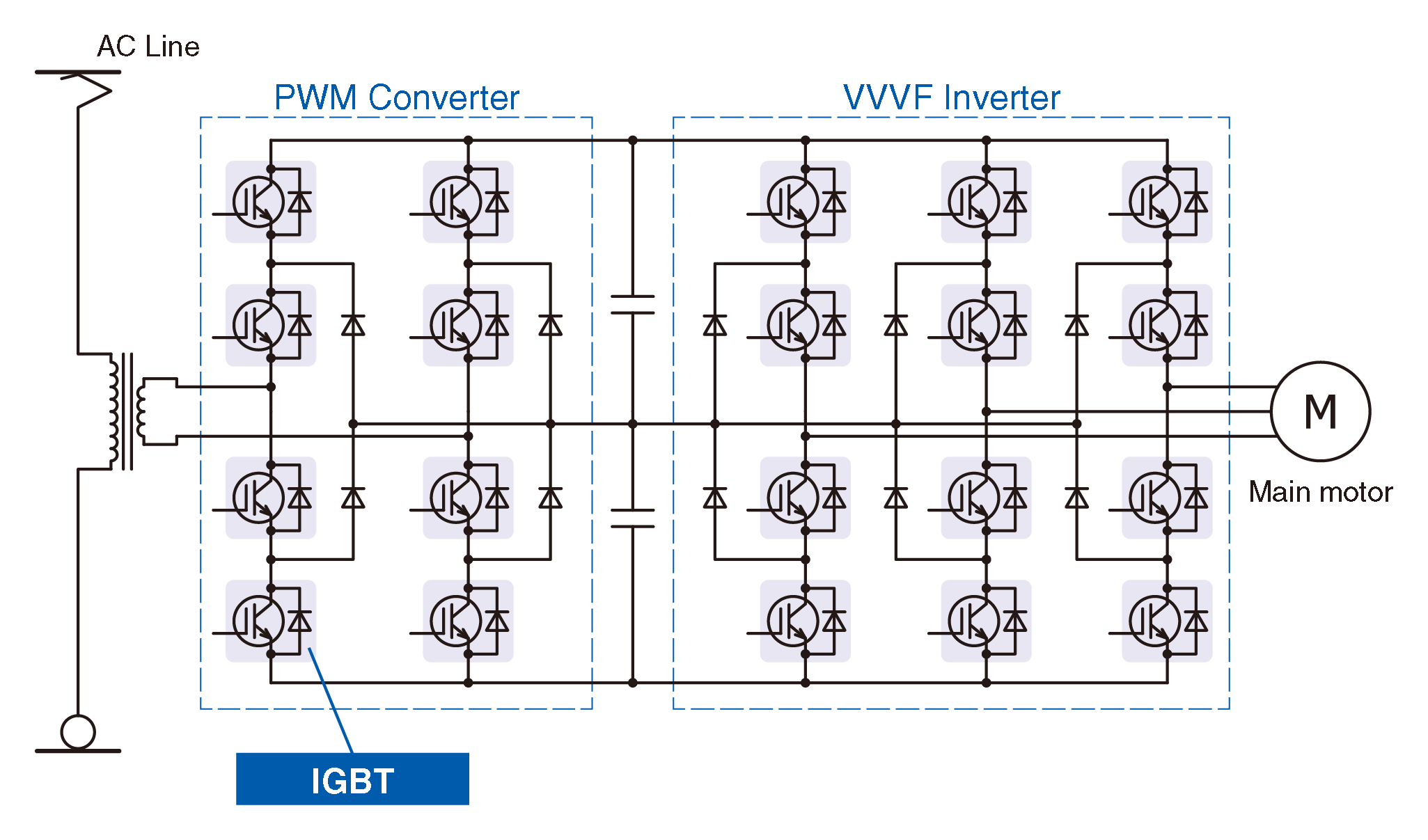 Example of Main Converter for DC Powered Trains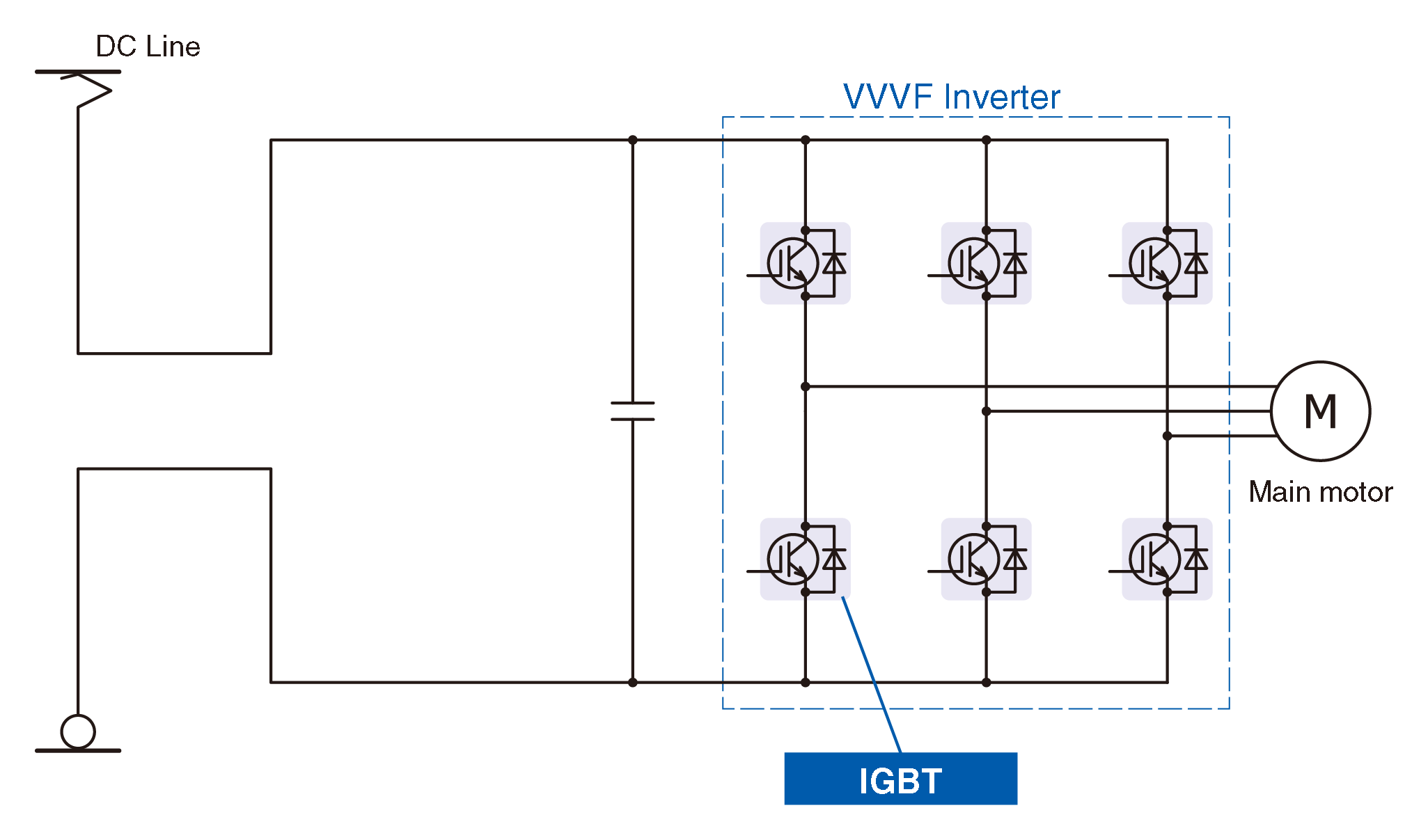 Example of Feeding Voltage
Segment
City Railroads
Intercity Railroads
Area
Subway & LRV
Electric Trains
High-speed Vehicles
Europe
DC600V/DC750V/DC825V/DC1500V
DC1500V/DC3000V/AC15kV/AC25kV
AC25kV
 
Western Europe
DC600V/DC750V/DC1500V
DC1500V/DC3000V/AC15kV/AC25kV
AC15kV/AC25kV
Eastern Europe
DC600V/DC750V
DC1500V/DC3000V/AC25kV
‐
CIS
DC600V/DC750V/DC825V
DC1500V/DC3000V/AC25kV
AC25kV
North America
DC600V/DC750V
AC25kV
‐
Central and South America
DC600V/DC750V/DC1500V/DC3000V
DC3000V
-
Asia & Pacific Region
DC600V/DC750V/DC1500V
DC1500V/AC20kV/AC25kV
AC25kV
Middle East & Africa
DC750V/DC1500V
DC3000V/AC25kV
-
Global
DC750V/DC1500V
DC1500V/AC25kV
AC25kV
Auxiliary Power Supply Circuit Example
Example of Auxiliary Power Supply for AC Powered Trains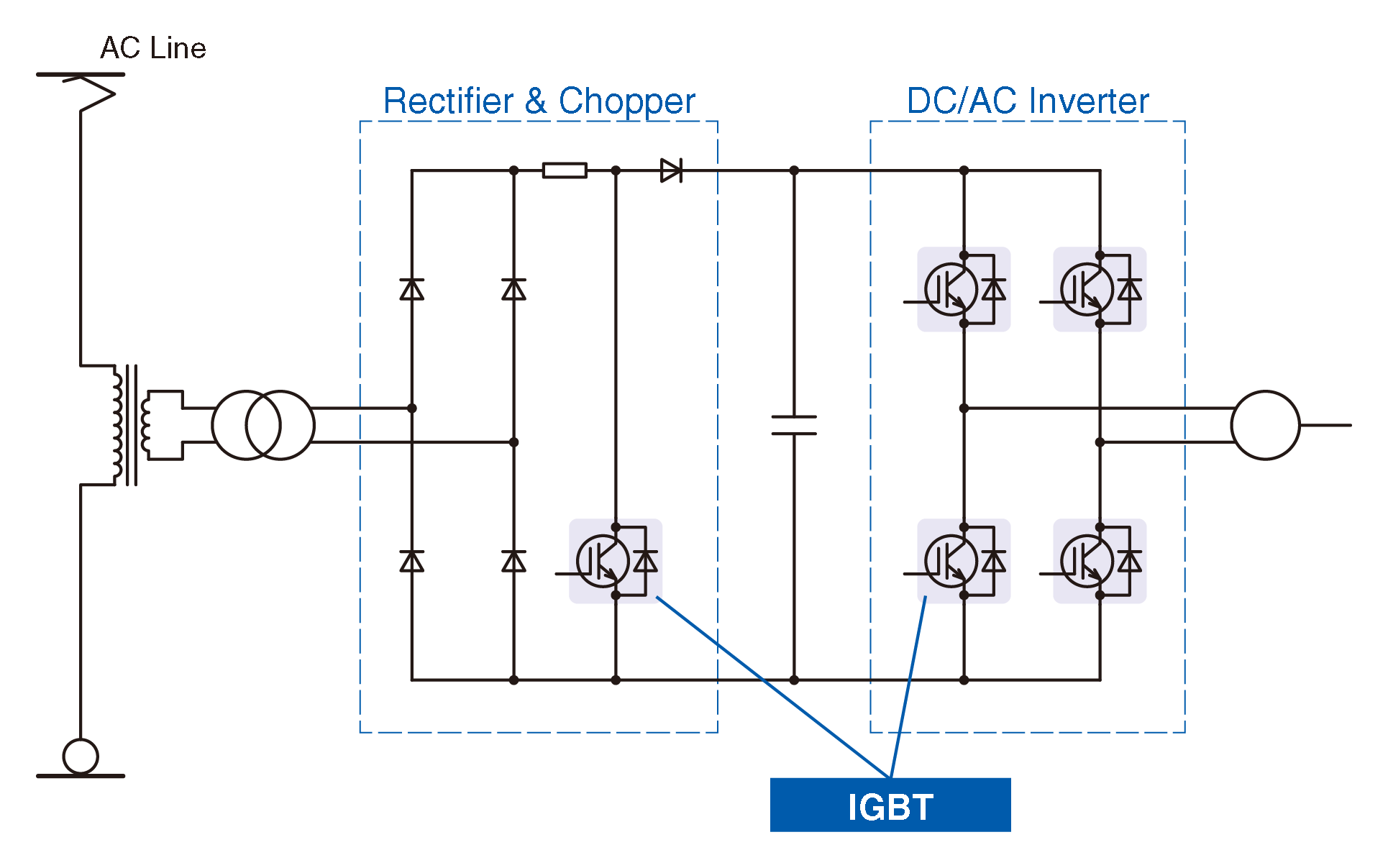 Example of Auxiliary Power Supply for DC Powered Trains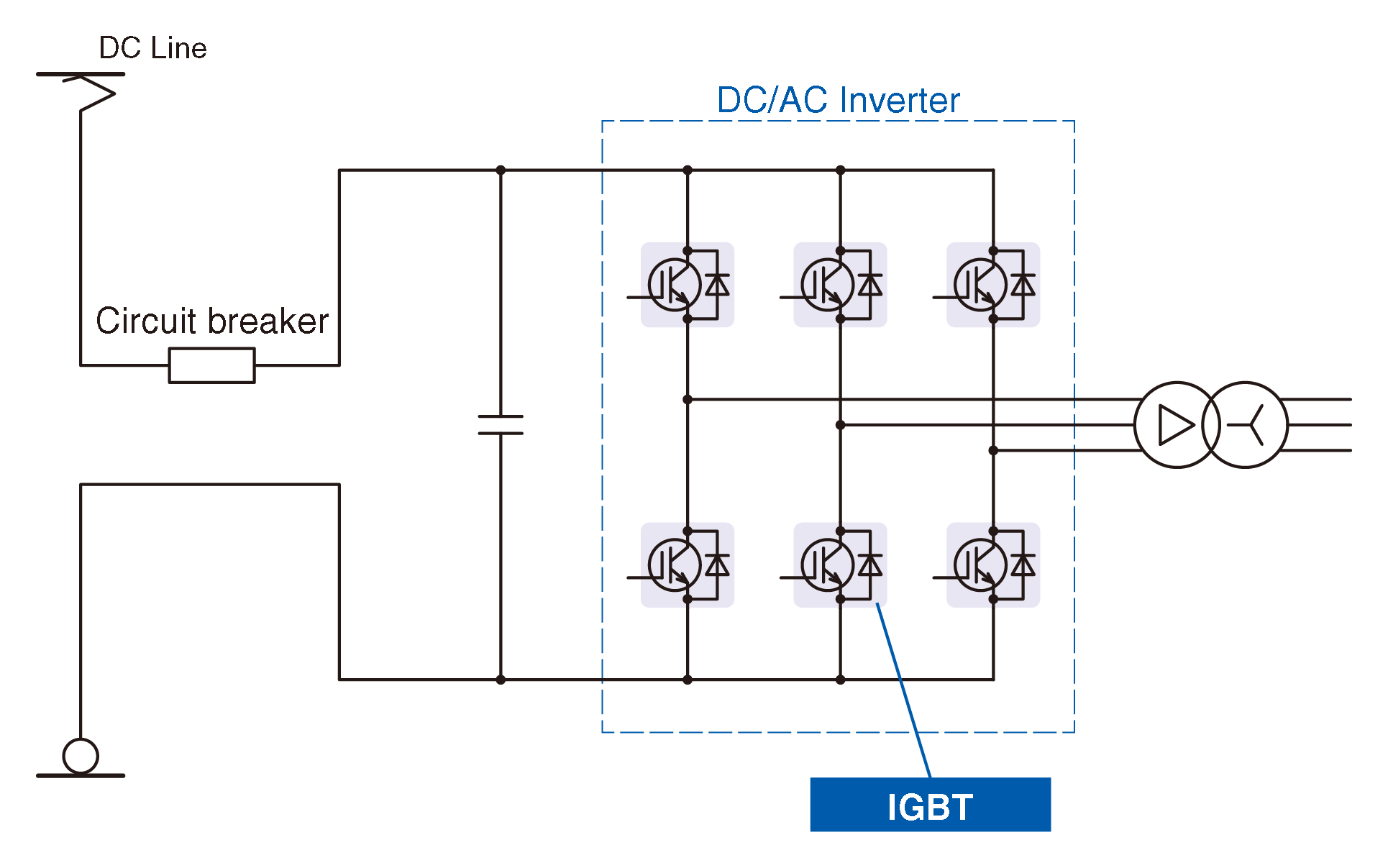 Segment
City Railroads
Intercity Railroads
Specifications
Subway & LRV
Subway
Electric Trains
High-speed Vehicles
Specifications
Asia specifications
(China, Southeast Asia)
North America specifications
(NYCT)
Asia specifications
(Australia and Japan)
Global specifications
 
Input voltage
DC750V
DC600V
DC1500V
AC440V
(Main transformer tertiary)
Output voltage
AC440V, 3φ, 60Hz
AC120V,1φ,60Hz×15kVA
AC440V, 3φ, 60Hz
AC440V, 3φ, 60Hz
 
 
DC37.5V x 20kW
 
 
Capacity
90kVA/160kVA
40kVA
180kVA/260kVA
180kVA/210kVA
Cooling System
Self-cooling
Forced air cooling
Self-cooling
Forced air cooling
Efficiency
95% or higher
95% or higher
95% or higher
95% or higher
Noise
62dB(A)
70dB(A)
62dB(A)
68dB(A)
Miniaturization
≧ 80 kVA/m3
≧ 100 kVA/m3
≧ 120 kVA/m3
≧ 120 kVA/m3
Fuji Electric Power Semiconductor Products
AlSiC Baseplate (High reliability type)
Copper Baseplate (Standard type)
Chopper
PAGE TOP