Using the Online Simulator
This tool is an online semiconductor simulation tool based on PLECS®.
It provides calculation of temperatures and losses of the semiconductors for different circuits.
Current available circuits:

3 Phases  2 Level
T type 3 Level Invert
Other circuits will continuously be uploaded

Up to date – Always find the latest Fuji products (already released to the market)
Features of the online Simulator
Loss/temperature calculation for 2-level and 3-level inverter circuit.
Support several kinds of PWM control method.
Heatsink / thermal condition.
The results are shown in both graphical (waveforms) and numerical (tables) way.
Compare different modules in the same graph – find the suitable product easily.
* Simulation result might be different from the offline IGBT simulator.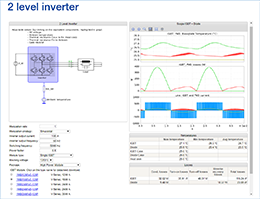 How to use Online Simulator
Link to Online Fuji IGBT Simulator