Changes of Molded Transformers
Recommendation of preventive maintenance
After years of operation, an oil-immersed transformer reaches its end of life. The failure rate of oil-immersed transformers tend to become high after 15 years of operation. Even though the appearance is fairly good, there are possibilities of dangerous conditions.  
Number of years of use exceeds 15 years.
Vibration, abnormal sound (beating noise, chattering noise and Corona noise)
Fuming or foul smell
Cracks in the insulation material
Parts degradation, frequent failure
Benefits of preventive maintenance
Preventive Maintenance means "preventive action against failure occurrence" and is abbreviated as PM.
It is a particularly important type of maintenance.
This "preventive maintenance" exerts its power effectively during the "wear-out failure period" in the bathtub curve.
What you can expect from PM:
– Accident prevention – Prevention of aging degradation – Extension of life span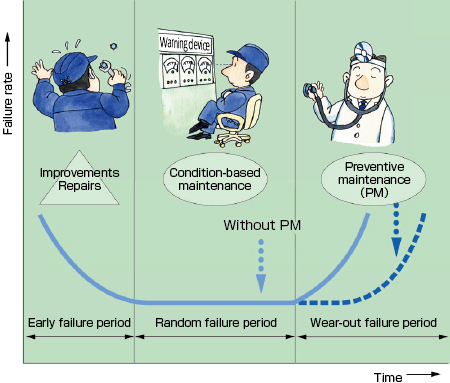 Necessity of preventive maintenance, and Upgrade plan
Even though expected life spans of H-class dry-type transformers and molded transformers are around 30 years, a degradation of insulation materials increases a failure rate and a risk of power failure. Power failures should be prevented because electricity is one of the indispensable energies for production activities and living in modern societies, and power failures may cause vast damage. To use transformers in a safe way, it is essential to perform preventive maintenance without fail, and it is important to renew systematically before the end of life.