Oil-immersed transformers
Changes of Oil-immersed transformers
Recommendation of preventive maintenance
After years of operation, an oil-immersed transformer reaches its end of life. The failure rate of oil-immersed transformers tend to become high after 15 years of operation. Even though the appearance is fairly good, there are possibilities of dangerous conditions.  
Benefits of preventive maintenance
Preventive Maintenance means "preventive action against failure occurrence" and is abbreviated as PM.
It is a particularly important type of maintenance.
This "preventive maintenance" exerts its power effectively during the "wear-out failure period" in the bathtub curve.
What you can expect from PM:
– Accident prevention – Prevention of aging degradation – Extension of life span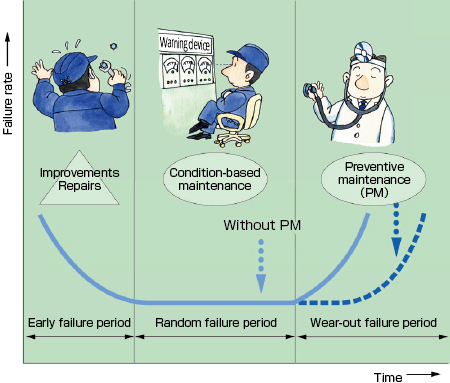 Recommended replacement time of parts
Japan Electrical Manufacturers' Association (JEMA) and Electric Technology Research Association recommend accessories/parts replacement to prolong transformer life. Please study it in conjunction with your plan of transformer inspection.
| Accessory name | Recommended replacement time | Requirement of power-off |
| --- | --- | --- |
| Dial thermometer | Every 10 years | Yes |
| Pressure gauge | Every 15 years | Yes |
| Oil gauge | Every 15 years | Yes |
| Pressure release plate | Every 15 years | Yes |
| Bushing | Every 15 years | Yes |
| All sorts of gaskets | Every 10 to 15 years | Yes |