Hot & Cold Can Vending Machine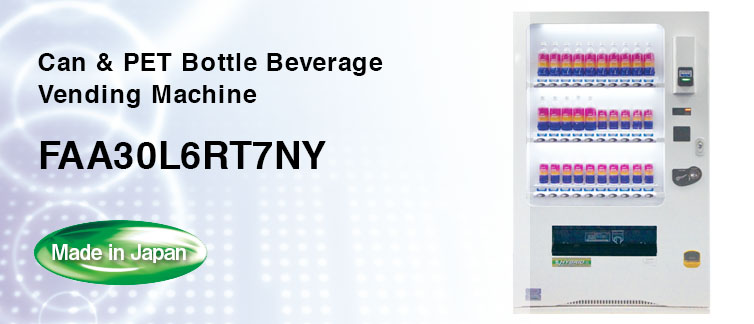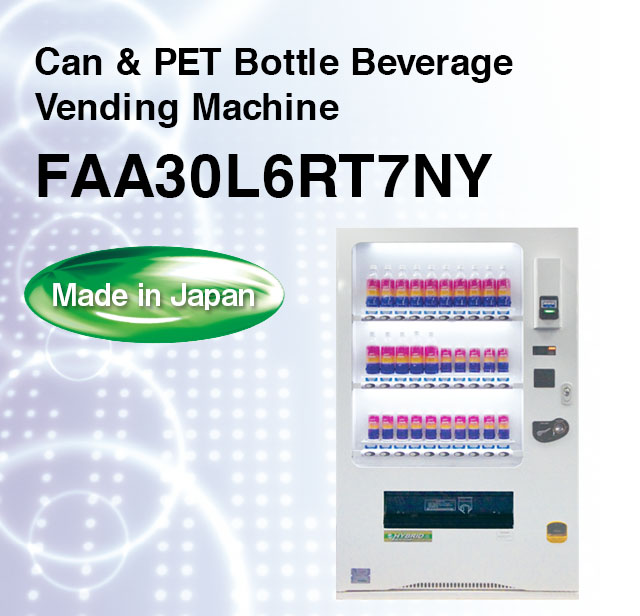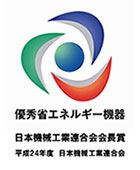 Fuji "Hot & Cold Can Vending Machine" received a Superior Energy Conserving Machinery Award of the Agency of Natural Resources and Energy Director`s Award.
30 selection 30 button (Max.18PET bottle products)
Annual power consumption : 575 kWh, 220 V supported (50 Hz / 60 Hz)
Dimensions : 1,830 mm(H) × 1,181 mm(W) × 731 mm(D)
Outline
Rack configuration and Hot/Cold product segmentation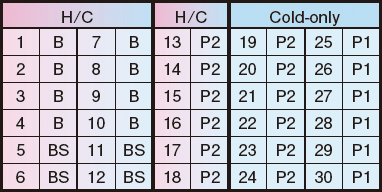 Rack types and product compatibility
B : 200/250/350ml cans, 280/330ml PET bottles
BS : 160/200/250/350ml cans, 280/300ml PET bottles
P1 : Up to long size 500ml PET bottle(228mm)
P2 : Up to nomal size 500ml PET bottle(213mm)
Capacity
Slim can(φ53mm): 595
Wide can(φ66mm): 450
PET bottle(φ66mm): 270
Advantages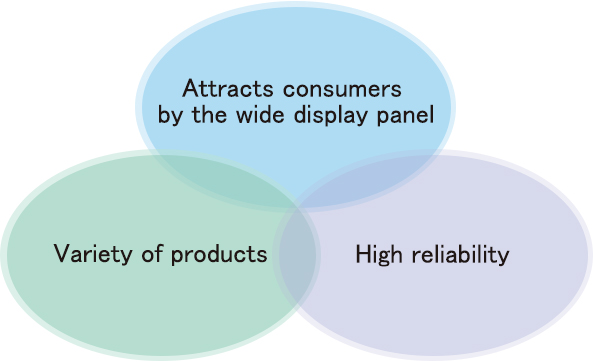 Interface encourages willingness to purchase

Wide panel display promotes the products. Clean appearance additionally encourages consumer willingness to purchase

Diversification of vended products

Product diversification enhances the sales channel expansion of the vending machine

Decrease in vending problems

Reduction of lost vending opportunities Increase in rate of repeat purchases due to improved reliability
Features
Three row PET rack(18columns)
Wide variety of products
Long size PET bottle rack (P1):Max.228mm

DC motor vending mechanism
Sold-out sensor mounted in the vending mechanism detects product jams.
Product jam is reduced by the retry function.
For a cash purchase, a refund or selection of other product is also possible.
Vending to the next customer from the jammed column is prevented.
Energy savings
Improved capability of the inverter, compressor control, and insulation
Equipped with LED Lighting
Life time of the product is longer than fluorecent lights.
Equipped with a hybrid heat pump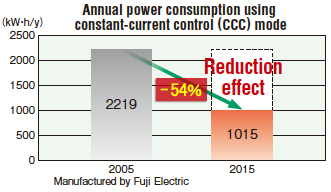 Specifications
Model
FAA30L6RT5NY
Dimensions
1,830 mm(H) × 1,181 mm(W) × 731 mm(D)
Product weight
247 kg
Lighting
LED
Cooling device
Compressor : reciprocating type, 6.36 ㎝3
Heating device
Sheathed heater : 310 W + 310 W
Power consumption
C:C:C 288 w / 288 w
H:C:C 188 w / 188 w
C:H:C 494 w / 494 w
H:H:C 534 w / 534 w
Electrical outlet capacity
15 A
Cooling volume
1,536 L
Annual power consumption
575 kWh
According to JIS B 8561:2007
Power supply
Single-phase, 220 V ±10 %, 50 / 60 Hz
Available for Singapore, Malaysia, Thailand.
※ Please contact us for other countries and regions
Availability