Product infromation
Product infromation
Large Contribution to Reducing Global Warming (Environmental Protection) with Energy Saving
50% of energy consumption in office buildings is related to air conditioning.
The FRENIC HVAC series is the dedicated inverter for HVAC that features functions and performances offer the optimal thermal environment for the people working in the building by keeping the energy consumption in various devices (compressor, condenser water pump, AHU and others) to the minimum. Fuji Electric contributes largely to global environment by realizing carbon dioxide reduction with energy saving by the inverter.
Wide variation in model capacity
Model can be selected from two model types.
■EMC filter built-in + DCR built-in type
0.75 to 90kW (Protective structure IP21 or IP55 can be selected.)
■EMC filter built-in type
110 to 710kW (Protective structure IP00)
| Inverter capacity | EMC filter | DC reactor | Protective structure |
| --- | --- | --- | --- |
| 0.75kW to 90kW | Built-in | Built-in | IP21/IP55 |
| 110kW to 710kW | Built-in | External | IP00 |
Please note that models over 110kW are not avairable in the Japanese market
Optimal control with energy-saving function
Linearization function
Temperature difference constant control and pressure difference constant control
Energy saving functions including wet-bulb temperature presumption control
Automatic energy-saving operation
Slim body
The first slim body design among the Fuji Electric inverters.
The size is the same between IP21 and IP55(the first in the industry).
Dedicated pump control function provided as standard
4PID control
Fire mode (forced operation)
Pick-up operation function
Real time clock
Torque vector control
Filter clogging prevention function
Customized logic
User friendly, useful keypad
Password function
Stand alone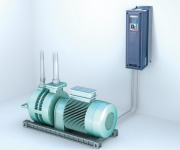 The inverter can be installed independently; no control panel is required.