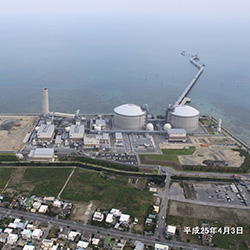 Since we delivered our first machine in 1959, Fuji Electric has consistently provided basic planning, design, manufacturing, construction, commissioning and after-sales services for thermal power plants based on steam turbines and generators. We promise to provide design, high efficiency and high reliability tailored to our customers' needs for all types of thermal power plants—from conventional coal-fired power plants to combined cycle and combined heat and power cogeneration plants. Fuji Electric is a world leader in the field of geothermal power generation and contributes greatly to the environment by reducing CO2 emissions.
Click here for detailed information on geothermal power plants
Features
Features of the steam turbine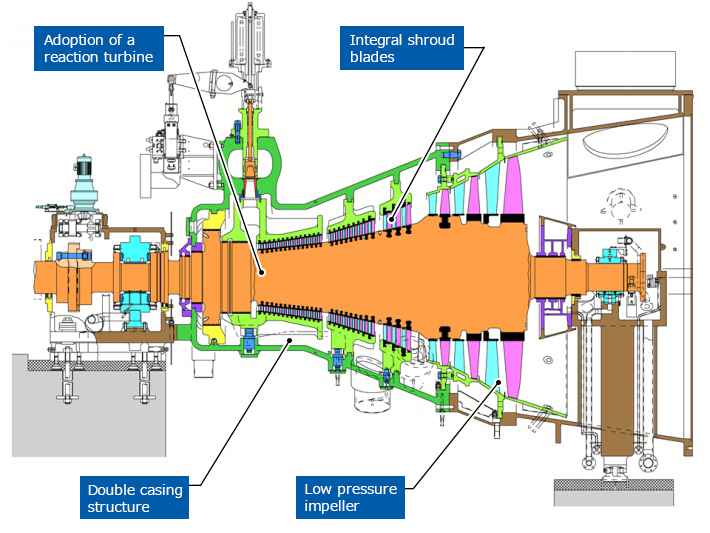 Adoption of a reaction turbine
In a reaction turbine, in addition to receiving the impulse of steam ejected from the stationary blades, together with the reaction force of steam ejected from the moving blades, the reaction blade cascade that rotates the rotor has a steam flow velocity that is slower with respect to the impulse blade cascade, and because the flow direction change in the moving blades is small, the efficiency of the turbine is high.
Integral shroud blades
A highly reliable integral machined structure is adopted which includes the shroud section.

Double casing structure
A structure is adopted that can reduce thermal stress and thermal deformation by separating the casing inside and outside.
Low pressure impeller
A free-standing low pressure impeller is adopted which does not use a shroud or lacing wires.