S-FORMER-mini

Fuji Electric's highly reliable thyristor DC power supply unit is the fruit of our substantial expertise in large-current technology nurtured over the years. Select the most suitable design for your facility, based on the wealth of available options.
Features
High reliability
Our large-current rectifier (trade name: S-Former) technology, typically used for aluminum electrolysis, has been employed in small to medium capacity devices to achieve high-reliability design.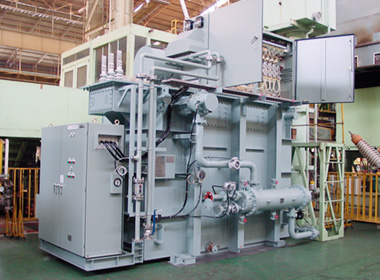 Rectifier unit
Configuration featuring a rectifier mounted on a transformer
260V DC, 26kA
Efficiency measurement by combination tests
Achieving high efficiency is critical for large-current rectifiers. We conduct combination tests of transformers and rectifiers to measure and verify efficiency before delivery.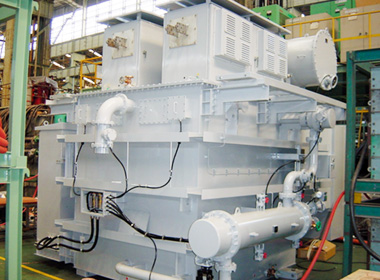 Rectifier unit
Configuration featuring a rectifier mounted on a transformer
510V DC, 16.5kA
Simplified on-site installation achieved by the delivery of an integrated unit
For overseas installations, the rectifier and transformer can be integrated as one single unit, optimizing the reduction of required installation space at your facility.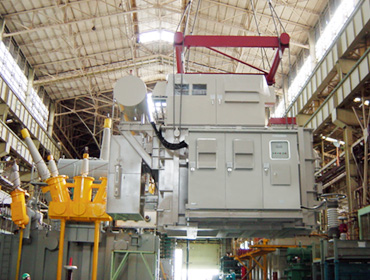 Hoisting of an integrated transformer and rectifier at the factory
150V DC, 52.5kA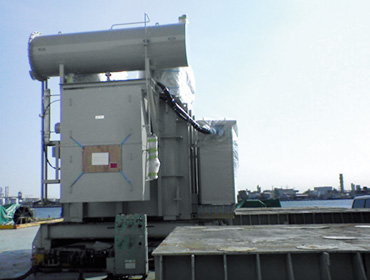 Delivery from the pier
150V DC, 52.5kA

Applications and specifications
Application
Input
Output
Electrolysis
Alumite treatment
Metal plating
Electrolytic machining
Electrolytic washing
Electrodeposition
3-phase
220/440V AC
3.3 to 35kV
5 to 1500V DC
1 to 60kA *1
*1: Per double-star-connected 12-phase rectifier

options
Numerous options are available to satisfy your specific needs. The following outlines only some examples of the many available options:
Spare cooling system
A spare cooling system can be mounted, in addition to a purified water cooling system for the rectifier and a cooling system for the transformer.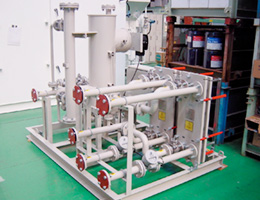 Purified water cooling system
(with a spare)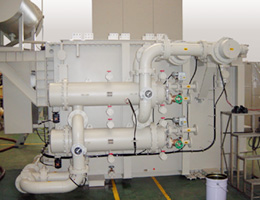 Double pipe type oil/water-cooled cooling system
(with a spare)
Ladder and inspection deck
To facilitate and for ease of maintenance, a ladder and an inspection deck, like that typically mounted on a transformer, can be mounted to the rectifier.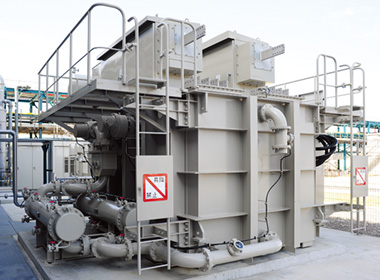 Rectifier unit
(with a ladder and inspection deck)
80V DC, 60kA
Rectifier inspection window
Windows for inspecting the inside of a rectifier can also be provided.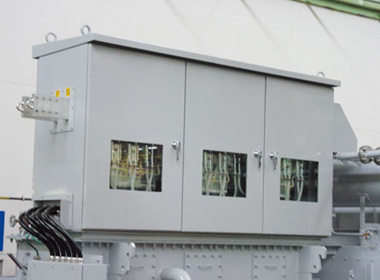 Thyristor rectifier
(with inspection windows)
162.5V DC, 12kA
Optical link between the control unit and the rectifier main unit
A control unit installed a distance away and an on-site rectifier can be connected via fiber optic cable, which facilitates changes in control constants from the distant location. The maximum distance between the control unit and rectifier is 100 meters, when utilizing the fiber optic cable.
Direct digital control unit (DDC)
In addition to standard analog type control units, direct digital control units are also available. The control constants of DDCs can be easily changed using an exclusive loader. In the unlikely event of a rectifier failure, each waveform can be stored and transmitted for failure analysis and prompt response.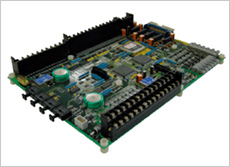 Direct digital control unit
A redundant thyristor for parallel connection
A redundant thyristor element is available for parallel connection, which allows continued operation in the rare event of thyristor element failure an unexpected.
System coordination
Fuji Electric Systems has the capability to supply a total power conversion system, taking each customer's specific power system in to consideration to result in optimum performance. This includes both harmonic and power factor studies, as well as supply of all related equipment.
Remote control
Remote control systems for use with a control panel, PC, and POD are also available.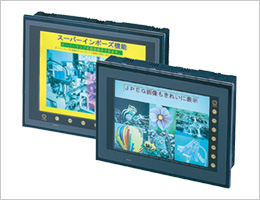 POD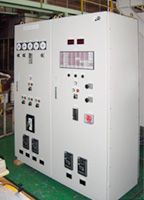 Appearance of a remote operation panel
Installation/external wiring/bus bar-related work can be implemented as a package.