Digital Controller <PXH>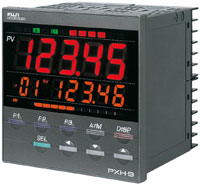 96 x 96 x 81.5 mm
High speed and high accuracy
High speed control: 50 ms input sampling
Indication accuracy: 0.1%
5-digit display can show 0.01°C
Accepts various input: thermocouple, RTD, voltage, or current
9 DIs, 9 DOs, and 2 AOs
Variety of functions: RS-485, T-Link, math function, ramp soak, transmitter power supply, complete templates
Shallow body and front waterproof structure
Easy parameter setting thanks to the loader software
Ideal for process control of temperature, pressure, and flow.
Specifications
Power supply voltage
100–240 V AC, 50/60 Hz
Power consumption
≤ 20 VA (at 220 V)
Input
Thermocouple, RTD, DC voltage/current
Indication accuracy
±0.1% FS
Sampling rate
50 ms
Input correction
zero and span adjustment, square root extraction, filter
Auxiliary analog input
1 point among 1–5 V, 0–5 V, 0–10 V
For motor-operated valve control: potentiometer 100 Ω–10 kΩ
Digital input
4 points or 9 points
No-voltage contact or transistor input
Math function
Flow rate compensation with temperature and pressure, average, Max/Min selector, input switching
Ramp soak
64 steps, 31 patterns
Control types
Basic, heating/cooling control, motorized valve control
Control output
Relay contact, SSR/SSC drive, 4–20 mA DC, or motorized valve control output
Digital output
2 points or 9 points, SPST or SPDT
Analog transfer output
4–20 mA DC, up to 2 points
Transmitter power supply
Power supply for 2-wire transmitter (17–30 V DC)
Control method
2-degrees-of-freedom PID with auto tuning
Control template
Pre-installed input/output setting and calculation blocks
Control mode
Auto, manual, or remote
Alarm
Up to 8 points
Alarm type
PV (high/low, absolute, deviation, zone, change rate), SV high/low, device error, hold, latch, excitation/non-excitation
Alarm output
can be allocated to digital output
Communication (option)
RS-485 (Modbus)
Front keys
4 keys (including user-defined key), with key lock function
Display
LED, 5-digit
Front structure
IP66, NEMA-4X equivalent
Dimensions and weight
96 (W) × 96 (H) × 81.5 (D) mm, approx. 500 g
Mounting method
Panel mount
External wiring terminals
M3 screw terminal
Parameter loader software
Supported OS: Windows 2000, Windows XP, Windows 7
Empty hard-disk capacity: 100 MB or more
Dedicated USB cable is option.
Software can be used via RS-485 (Modbus) network.
Easy parameter setting thanks to the loader software

Parameter upload and download is easily made by using the parameter loader software.
You can also check the PID tuning status on PC.
To use the software, connect between the loader port of PXH and PC with cable, or via RS-485 communication.
Parameter loader software
Click to download the software.
Requirements
Supported OS: Windows XP, Windows 2000, Windows 7
Memory capacity: 128 MB or more
Empty hard-disk capacity: 100 MB or more
CO-ROM drive required
Minimum screen resolution: 1024 x 768
The dedicated cable (ZZPPXH1*TK4H4563) is required to connect with PC through the port on PXG.
Temperature Controllers