FRENIC4000 Series Small-to-medium capacity DC link inverters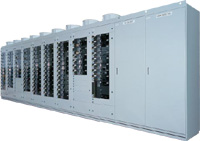 FRENIC4000VM5

Vector control inverter

FRENIC4000FM5

V/f control inverter
Features
Extensive capacity series
With this extensive capacity series available from 10 kVA to 600 kVA, the capacity can easily be selected to match the load.
In addition, by multiplexing the inverters, up to 3600 kVA (600 kVA x 6 inverter units) can be supported.
Stackable unit structure
| | |
| --- | --- |
| Capacity (kVA) | No. of units in housing |
| 10,15,25 | Max. 12 units/panel |
| 38,50,75 | Max. 8 units/panel |
| 100,150 | Max. 4 units/panel |
| 225,300 | Max. 2 units/panel |
For applications of 300 kVA or less, the plugin-type unit structure enables multiple units to be accommodated in each panel housing.
Easy maintenance and inspections
While the control unit is in operation or stopped it is possible to check various data and status conditions, which makes it extremely easy to review the system operating state including safeguard and abnormal conditions.
Traceback functions* are also available during.
(*) option
Panel front maintenance access
For units of 300 kVA or less, the plugin-type unit structure enables easy maintenance access simply from the front panel.
Even for units of 450 kVA or more, all are now easily accessible for servicing from the front panel alone.
Fanless cooling of individual units
We have eliminated the separate cooling fans in each unit and now only use a cooling fan for control panel.
Adoption of IGBT
We have adopted a Insulated Gate Bipolar Transistor (IGBT) device configuration for a faster control response, lower loss and more simplified inverter control circuit.
High-efficiency plant operations
High-efficiency plant operations can be achieved by exchanging power energy and regenerative energy with the DC distribution system over a common DC bus.
Specifications
Item
FRENIC4000VM5
FRENIC4000FM5
Input voltage
DC600V±10%
Output
Voltage
Three-phase 400 VAC
Frequency
0.2~200Hz
2.5~200Hz
Overload
1 min. at 150%
1 min. at 150%
Control functions
Control method
Sine wave PWM, ASR control with ACR minor control
V/f control AVR
Control range
Speed control 1:1000
Frequency control 1:80
Control accuracy
±0.01% of rated speed
±0.01% of rated frequency
Field control range
1:4
1:4
Torque control accuracy
±5%、±3% (when using VMT5)
-
Response speed
300rad/s (50Hz)
-
Request a catalog