Product infromation
Pump control
Three pump control methods are available
Maximum number of connections
Fixed method: 5 units
Circulating method: 3 stages *1
Communication link method: 4 units
*1 Up to 2 units in the standard specification.
It is necessary to install an optional relay output card for circulating operation of 3 units.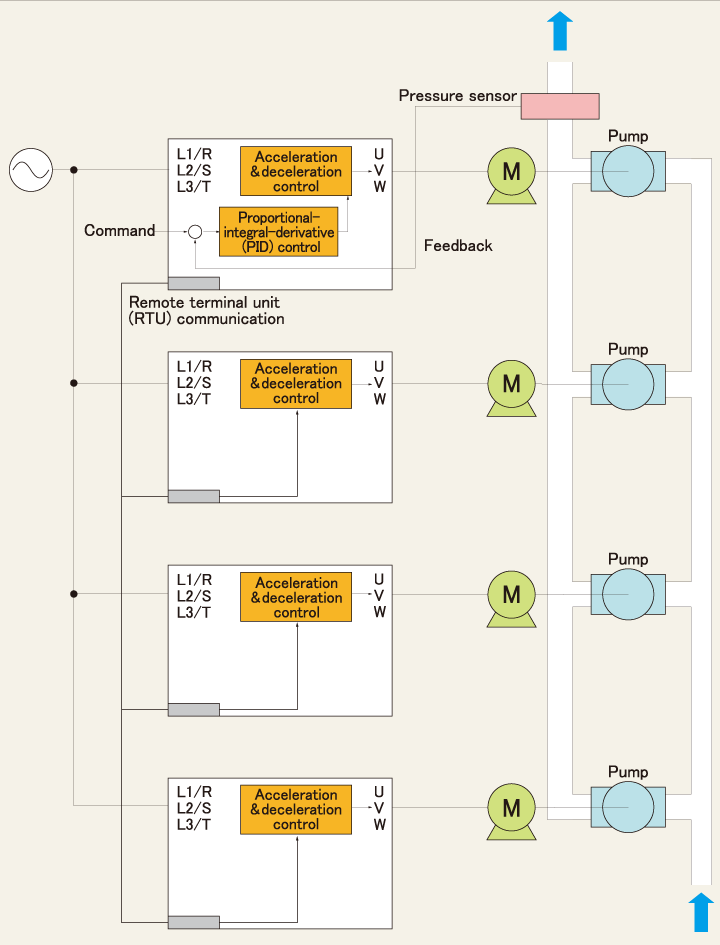 Communication link method: Rotary operation
Each inverter is connected by a communication link, and the system can be constructed without the need for a controller.
Also, no additional options are required and wiring can be reduced by using communication.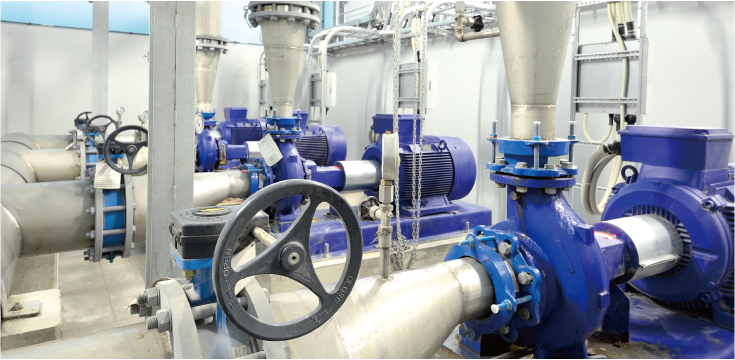 New functions: Standard-equipped customizable logic functions
Temperature difference constant control and estimated terminal pressure control can be used by creating customized logic.
Users can create their own sequences.
Combinations of up to 200 steps are possible. A special software development environment is not required.
Digital logic circuits and analog arithmetic circuits can be configured using digital and analog input-output signals.
Logic settings can be protected by passwords.
Improved operability
Standard equipped with RS-485 port (terminal block) independent of the keypad
Optional keypad with USB port for communication with PC
Various communication interfaces can be supported with installation of an optional card

Input/output system: relay output, analog input/output, platinum resistance temperature detector (RTD) input (PT100)
Communication system: DeviceNet, PROFIBUS-DP, LonWorks

Detachable interface panel is used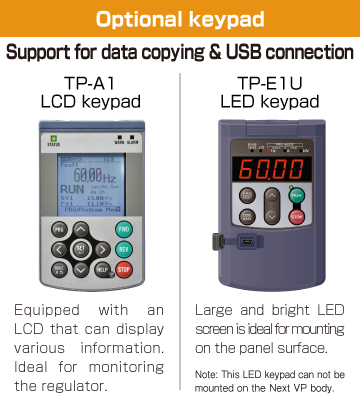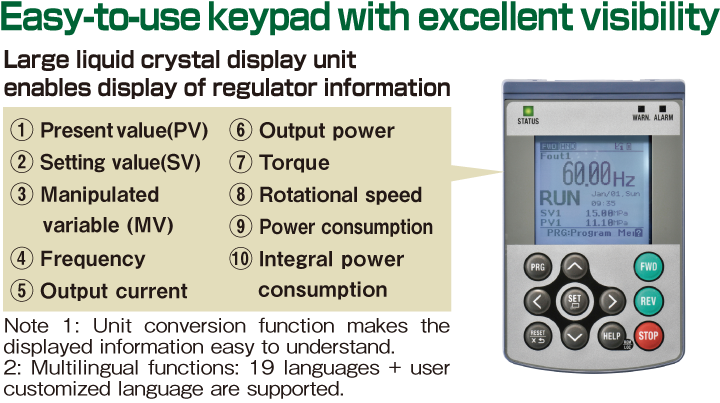 Multilingual support: 19 languages
Language

Japanese
English
Chinese
German
French
Spanish
Italian
Russian
Greek
Turkish
Malay
Vietnamese
Thai
Indonesian
Polish
Czech
Swedish
Portuguese
Dutch
Other equipped controls and functions
Sensorless synchronous motor control to meet further energy-saving requirements
Pick-up and regeneration avoidance operating functions
PID scaling functions (quantity setting)
Benefits of reliable long service life design continue after installation (10 year design)
The design life of the various parts with limited service life inside the inverter is 10 years. Lengthening of the maintenance cycle helps to reduce expenses.
Design life
Main circuit capacitor
10 years (HND specification)
7 years(ND specification)
Electrolytic capacitors on PCB
10 years
7 years
Cooling fan
10 years
7 years
Service life conditions
Ambient temperature
+40°C (104°F)
Load factor
80%
Note: As the design life is a calculated value, it is not a guaranteed value.
Regarding standard compliance
This product conforms to the UL standards and CE directives.