Solutions and Case Studies
Case study
Ensuring a stable supply of power using mega solar and storage batteries Construction of Japan's largest mega solar power plant with storage batteries
GPD Suzuran Solar Co., Ltd., Suzuran Kushiro Town Solar Power Plant

Contributing to society through a stable supply of clean energy
The world is now moving towards a harmonious relationship between economic growth and environmental protection. In the field of energy supply as well, initiatives are expanding to make clean energy the main source of power. As an example, wetlands that have been idle for many years and cannot be converted to agricultural land use are being effectively utilized as a place to supply clean energy at this Suzuran Kushiro Town Solar Power Plant.
However, the issue with supplying clean energy lies in being able to provide a stable supply of electric power. Since electric power is essential for daily life and for use in industry, strengthening the resistance of the power supply to sudden troubles such as disasters is indispensable, but it is difficult to provide a stable supply using clean energy when the power generation capacity depends on weather conditions.
If the balance between the electric power supply and demand is upset, a phenomenon called frequency fluctuation will occur, and this may lead to a deterioration of the quality of the equipment connected to the grid. For this reason, when power is supplied by a clean energy source with a power generation capacity that depends on the weather, one of the solutions for maintaining the balance between the power supply and demand that is seeing expanded application is the use of storage batteries to smooth out the output fluctuations (supply fluctuations). As in the case study presented here, initiatives are expanding to reduce the impact on the grid by installing storage batteries at mega solar power plants.
Output fluctuation within 1% per minute as required in the Hokkaido Electric Power Company service area
As stipulated in its "Technical Requirements for Measures to Mitigate Output Fluctuations of Photovoltaic Power Generation Equipment", Hokkaido Electric Power Company requires solar power generation companies to provide a stable supply of electric power in order to minimize the impact on the grid.
Solar power generation companies are required to install storage batteries and control the output of the storage batteries to mitigate sudden fluctuations in the combined output of the photovoltaic power generation equipment and storage batteries. Specifically, the requirements state that the rate of fluctuation of the combined power output of the power plant shall be 1% or less per minute of the specified power generation output at all times.
In other words, solar power generation companies are required to keep the output fluctuations within 1% per minute. This case study introduces Fuji Electric's technological capabilities in the construction of a power plant where output fluctuations of only 1% or less are allowed as one of the challenges of providing a stable supply of clean energy.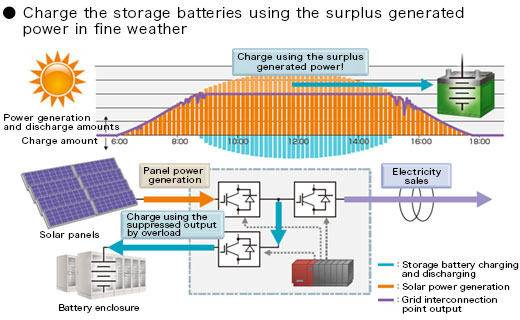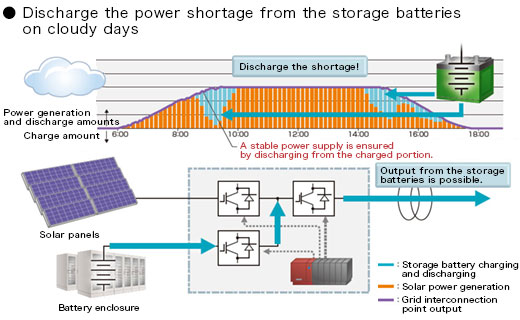 Fuji Electric's advanced EPC expertise
Technical capabilities and an extensive track record enable us to undertake construction of the entire system
Fuji Electric is capable of building total systems for photovoltaic power generation based on the product and technological capabilities it has cultivated as a heavy electrical equipment manufacturer since its founding in 1923. We can undertake the construction of the entire system from upstream to downstream with a product lineup that includes high-voltage and extra high-voltage grid interconnection equipment, supply and demand control technology, and power conditioners (PCS), which are at the heart of photovoltaic power generation systems. Fuji Electric is a total engineering company and provides engineering, procurement, and construction (EPC) services for photovoltaic power generation systems.
In addition, our track record includes constructing various power plants in Japan and abroad, and we have possessed system stabilization technology capabilities for more than 20 years. Our reliable technology has not only been cultivated in solar power generation but has also been transferred to our work on various other power source systems such as wind power generation and in-house power generators.
The Kushiro region has relatively little snow for Hokkaido, but utilizing our technological capabilities we were capable of securing power generation with the construction of a mega solar power plant in heavy snow and on soft ground areas with a short delivery time of about 30 months.
Stable supply of power using storage batteries
The Suzuran Kushiro Town Solar Power Plant converts the DC input from the solar panels into AC output by means of a special-purpose PCS for PV systems. The storage batteries are charged with the surplus AC power and the shortage is discharged from the storage batteries with output fluctuation mitigation control using the special-purpose PCS. In fine weather, output fluctuation mitigation control is used to charge the storage batteries with the surplus generated power, and when the amount of power generation is inadequate, power can be discharged from the storage batteries. In this way, we were able to successfully provide a stable supply of electric power with output fluctuations held to within 1% per minute as required within Hokkaido Electric Power Company's service area. Fuji Electric also has a series of PCS products that enable DC power input connecting to the solar panels, DC power input connecting to the storage batteries, and AC power output to the grid, all with a single PCS.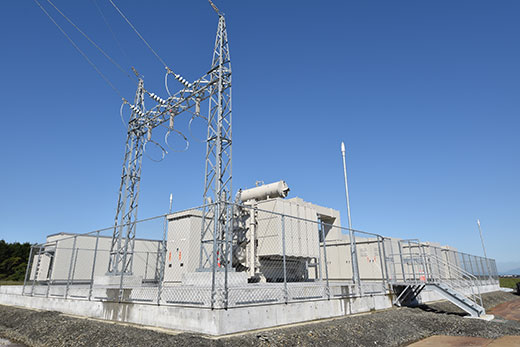 High-efficiency power conditioner efficiently converts generated electricity into AC power for transmission
The PCS converts the electricity generated by the solar panels into electricity that can be used in homes and is said to be the heart of a photovoltaic power generation system. This PCS system makes use of Fuji Electric's own products. We have achieved the highest level of efficiency in the industry by employing state-of-the-art power semiconductors that feature our own proprietary technologies. In the past, the control that was applied to efficiently convert DC power to AC power was complex, but by utilizing reverse blocking IGBTs, we are able to significantly reduce the power losses and the number of parts, which results in a high efficiency rate of 98.8%.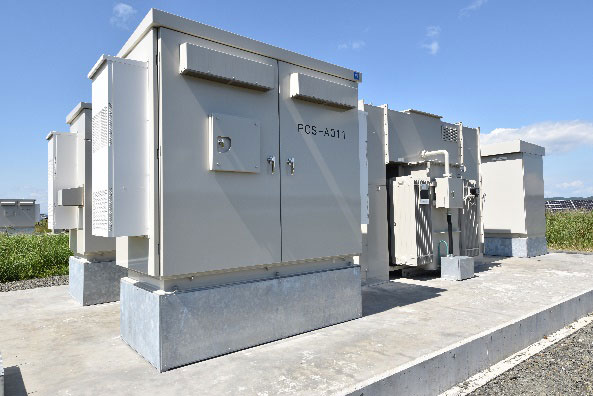 Output stabilizer suppresses the load on the power grid
Our MICREX-SX programmable controller installed inside the control panel controls the PCS and power receiving and distribution equipment, and suppresses the load on the power grid.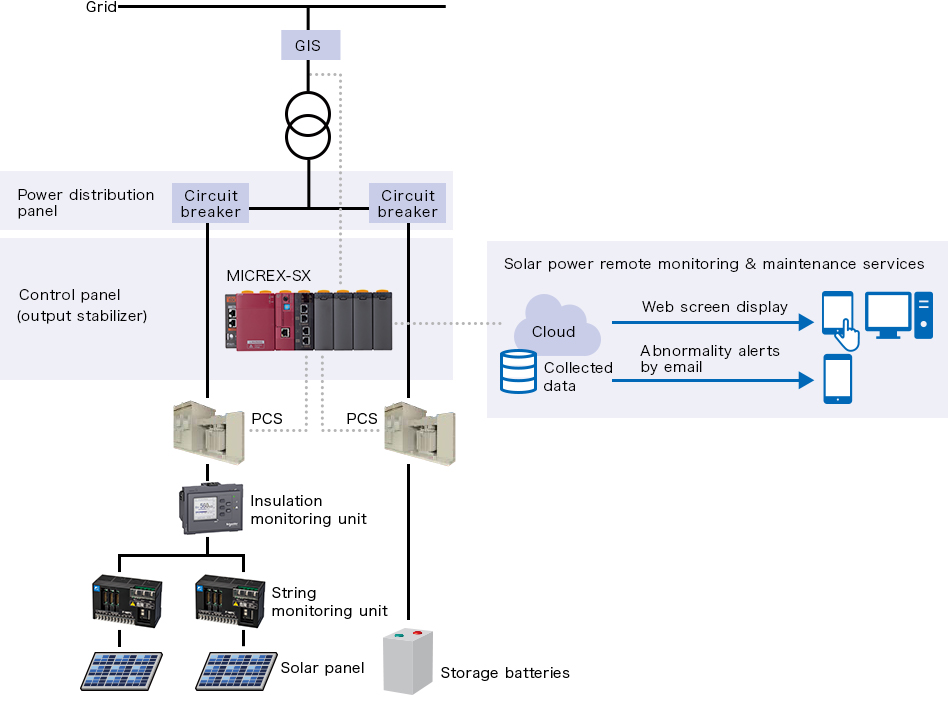 A stable power supply is ensured at the Suzuran Kushiro Town Solar Power Plant by installing storage batteries.
---
Suzuran Kushiro Town Solar Power Plant
This is a mega solar power plant that utilizes approximately 163 ha of idle land in Kushiro Town, Hokkaido. With an output scale of about 92 MW and an estimated annual power generation of 105.5 million kWh/year, the plant provides power equivalent to that used by around 21,300 ordinary households.