Solutions and Case Studies
Example of in-house implementation
Promoting energy conservation activities utilizing Fuji Electric's "ZEBLA" power demand prediction system
Fukiage Factory, Fuji Electric FA Components & Systems Co., Ltd.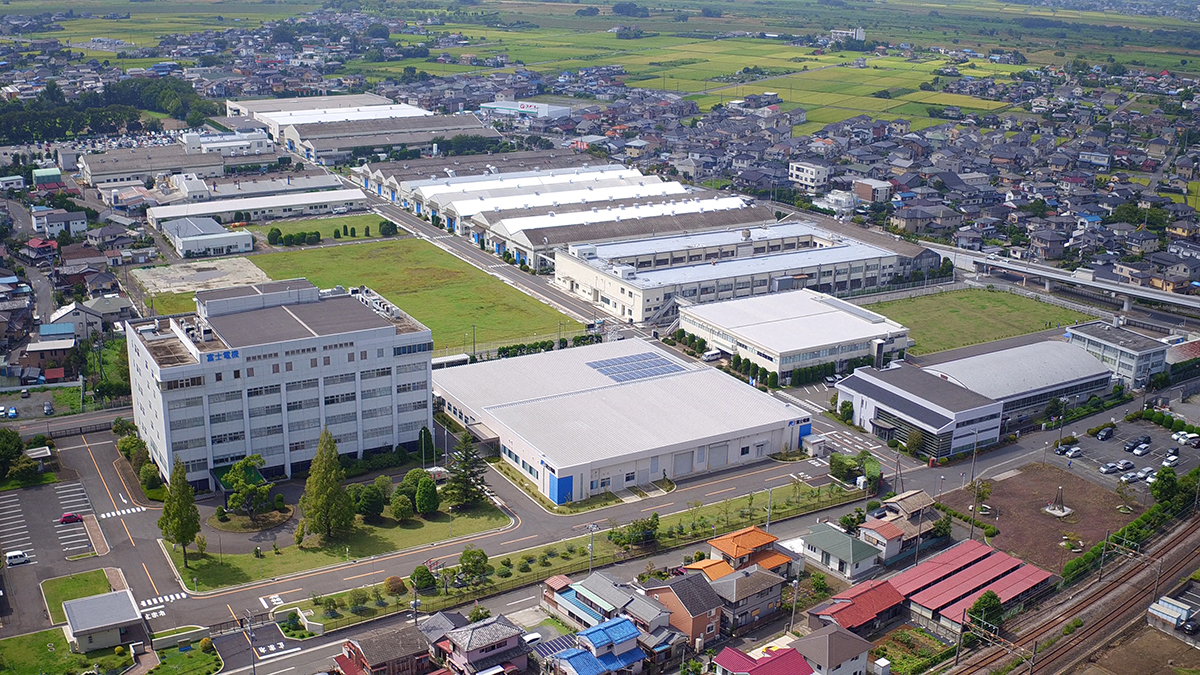 Plan for reinforcing the business performance of the Fukiage Factory by conserving energy
Fuji Electric has been implementing initiatives to reduce its Greenhouse Gas (GHG) emissions during production with the aim of creating a low-carbon society. At our production bases as well, we have been promoting smart factories that optimize their use of energy by linking electrical and thermal energy technologies with their production plans.
Since 2010, the Fukiage Factory of Fuji Electric FA Components & Systems Co., Ltd., which is our production base for power receiving, distribution and control equipments, has been implementing a plan to reinforce the business performance of the factory by conserving energy. The Fukiage Factory's initiatives include visualization of energy consumption, reconstruction of production lines and improvement of layouts, and improvement of air conditioning and lighting efficiency by reviewing building roofing materials, all with the aim of reducing wasted energy.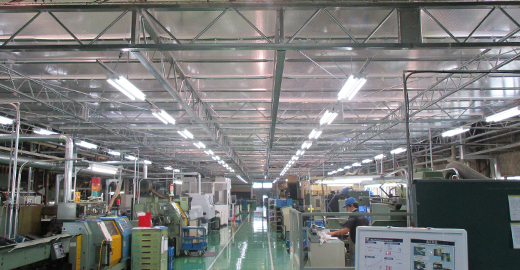 In-factory enclosures used to reduce air conditioning load
At the same time, we are enthusiastically working on overall energy conservation activities, such as implementing energy conservation patrols performed by employees and holding study sessions on ways to promote energy conservation.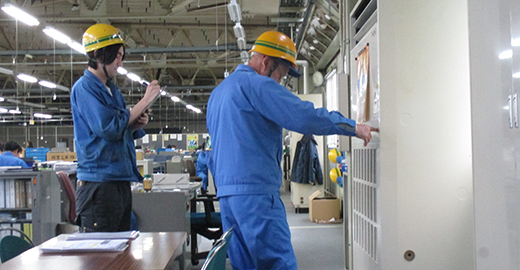 Energy conservation patrol
At the core of this activity is the ZEBLA power demand prediction system that we introduced in 2015. Controlling the power demand in factories where the power usage fluctuates daily is very difficult, and leveling the power usage as much as possible is necessary so that it is not concentrated in specific time zones as well as to keep the usage from exceeding the amount of power contracted with the power company. While conventional methods of demand control can reduce the power usage costs to less than the contracted amount of power, they cannot flexibly respond to changes in the production plans, and incur a number of problems in terms of achieving both energy conservation and effective production planning. However, the introduction of our ZEBLA power demand prediction system, which can predict power demand for long periods, made it possible to control power suppression from an early stage, suppress power demand peaks, and enable power leveling without affecting the production planning.
Promoting the use of clean energy (electricity) with a view toward the elimination of fossil fuel usage, we electrified our large aging gas air conditioners and achieved a smooth conversion of energy without increasing our contracted amount of power and greatly contributed to the reduction of CO2 emissions.
Power demand prediction system ZEBLA
The ZEBLA (short for Zero Energy Building Logging Analysis) is an Energy Management System (EMS) that predicts power demand and automatically implements optimal energy conservation measures. The system predicts the peak time zone of power usage for the day based on past data. When power is inadequate, the system thins out or suppresses the operation of less important electrical equipment, and if power is still inadequate, the system operates generators to implement automatic energy conservation measures in real time. In addition, the ZEBLA system is equipped with learning functions that make it possible to constantly evolve its prediction accuracy.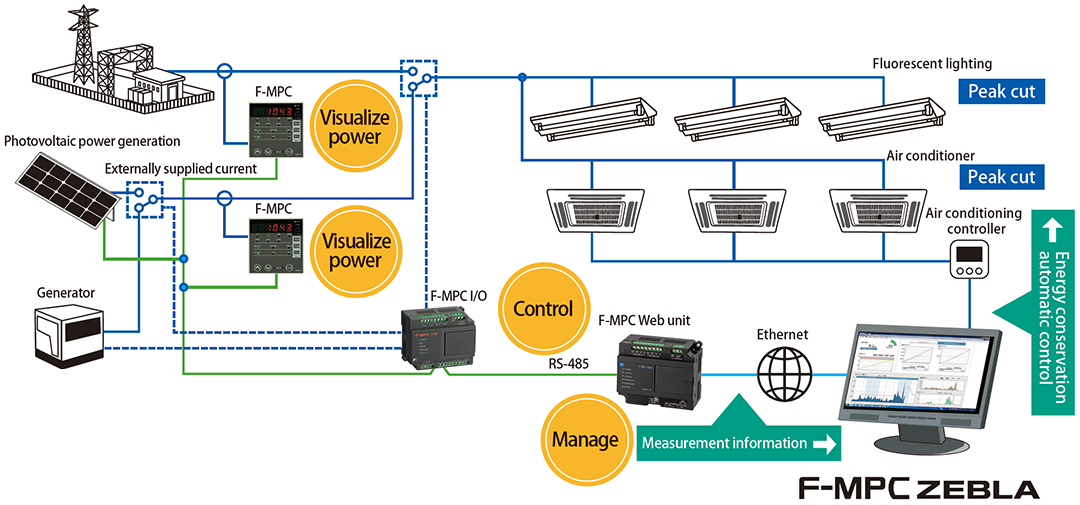 System configuration example for power demand leveling
When introducing ZEBLA to our Fukiage Factory, we upgraded it from the original Building Energy Management System (BEMS) to a Factory Energy Management System (FEMS) version.
While the control targets of the conventional BEMS version of ZEBLA are limited to OA equipment, lighting, air conditioning, etc. with little effect on production activities, the FEMS compatible version for factories affects all production-related equipment other than OA equipment, lighting, and air conditioning equipment. In particular, furnaces and processing machines that require precise control are very difficult to operate because product quality is greatly affected by momentary power outages and voltage fluctuations. Furthermore, from the perspective of ensuring a safe working environment for the workers, it is necessary to prevent stoppages of lighting and air conditioning.
For this reason, the FEMS version is equipped with TPO control function that selects the control target at the optimum timing according to the conditions, which makes it possible to disperse the peak power demand without compromising productivity and comfort. With the introduction of ZEBLA, in fiscal 2018 we achieved a decrease of 25.7% in the energy consumption rate (crude oil equivalent) compared to fiscal 2015.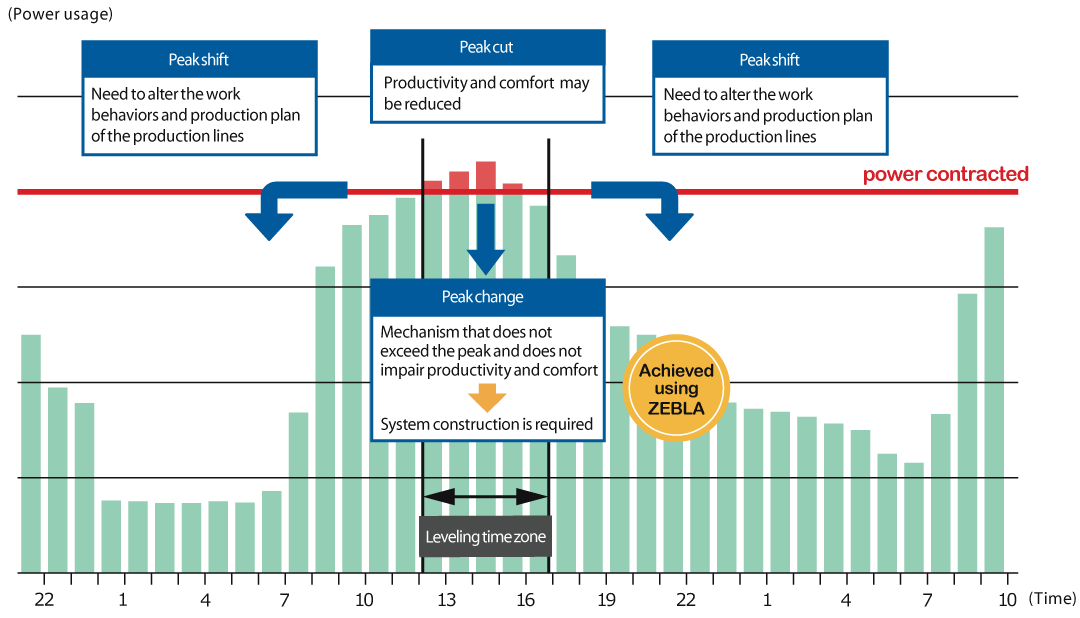 Recipient of the Energy Conservation Center, Japan (ECCJ) Chairman's Award
Our Fukiage Factory's "Promotion of Energy Conservation by Utilizing the ZEBLA Power Demand Prediction System" received the Energy Conservation Center, Japan (ECCJ) Chairman's Award in the 2019 in the Energy Conservation Grand Prize* category. This award cited our contributions aimed at reducing energy consumption by simultaneously promoting the introduction of ZEBLA and other energy conservation measures, leveling electricity demand using ZEBLA, and electrifying large gas air conditioners (clean energy conversion) without increasing our contracted amount of power. In fiscal 2018, we achieved an annual energy reduction (crude oil equivalent) of 1,167 kiloliters, a power usage ratio of 83%, and an energy consumption rate (crude oil equivalent) decrease of 25.7% compared to fiscal 2015.
In the future, we will expand the scope of monitoring and control to include not only electricity but also gas and water, predict fluctuations in natural energy with the cooperation of weather forecasts, and aim for a comprehensive waste-free energy conservation system.