UPS6000D-1 Series
Features

Ratings and specifications
Features
Flexible support for various input and output voltages
Flexible support for AC output and direct feed input in the same equipment dimensions is possible with the large number of single-phase specification variations. Elimination of a voltage matching transformer improves the efficiency of the whole system.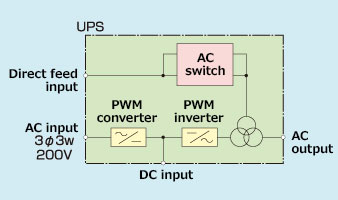 Direct feed input
1φ2w 200V
1φ2w 100V
AC output
1φ2w 200V
〇
〇
1φ2w 100V
〇
〇
1φ3w 200V-100V
〇
〇
Note 1: The standard specification for AC input is three-phase, three-wire 200V.
Note 2: Direct feed 75 kVA input is single-phase, two-wire 200 V only.
Support for high reliability systems
Fully independent parallel redundant systems are supported, enabling configurations of up to 8 parallel systems and making it possible to pursue higher reliability in the medium-capacity, single-phase specification class.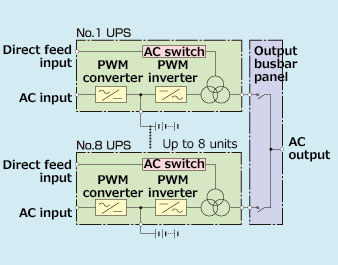 Built-in maintenance bypass circuit
A maintenance bypass circuit, which is conventionally available as an option, is built into this UPS. Being able to use the UPS alone enables higher maintenance performance.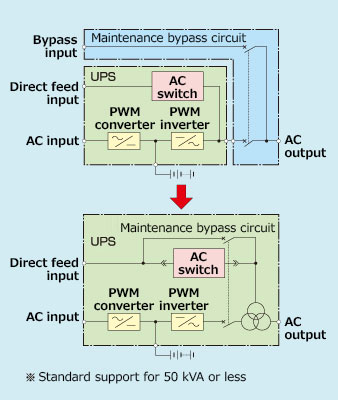 Low loss
A new control method reduces heat generation quantity by 27% compared with conventional products, achieving industry-leading low loss.
| | Conventional product (30 kVA model) | 6000D-1 | Comparative ratio |
| --- | --- | --- | --- |
| Heat generation quantity* | about 4.1 kW | about 3.0 kW | 27% reduction |
* Heat generation quantity of equipment at rated load.
Network system support
We have developed a Web/SNMP card for UPS systems that is compatible with JEMA-MIB. Monitoring of UPS status information is possible over an in-house LAN using browser software, and can also be used for remote maintenance. (The Web/SNMP card is optional.)
Harmonic current suppression
The input current is controlled to be a sinusoidal wave and the harmonic current is suppressed. For this reason, there is no influence by harmonics on in-house power generators of the input system and phase advance capacitors.
High power factor
Controlling the input current to be in phase with the voltage nearly eliminates the reactive power and makes the input power factor to be approximately 1, and this enables the input capacity to be reduced.
Battery management functions
This system represents a collection of our UPS battery trouble expertise and provides battery reliability management.

Ratings and specifications
UPS6000D-1/20
UPS6000D-1/30
UPS6000D-1/40
UPS6000D-1/50
UPS6000D-1/75
Rating
20kVA/16kW
30kVA/24kW
40kVA/32kW
50kVA/40kW
75kVA/60kW
Cooling method
Forced air cooling
Power supply method
Grid-synchronized online UPS system
AC input
Number of phases
3 phases, 3 wires
Voltage
200/210V±10%
Frequency
50 or 60 Hz
Operating range: ±5%
Power factor
0.98 or more (at rated load)
Harmonic content ratio
5% or less (at rated load)
Direct feed input
Number of phases
Single phase, 2 wires
Voltage
100 or 200 V
Manually switchable condition: ±10%
200V
Manually switchable condition: ±10%
Frequency
Direct feed following range : ±1% of rated frequency
AC output
Number of phases
Single phase, 2 wires and single phase 3 wires
Voltage
200/210V ±1%、100/105V±1%、100/105V-200/210V±1%
Frequency
50 or 60 Hz
Frequency accuracy
Rated frequency ±0.01% (internal oscillation)
Load power factor
0.7 (delay) to 1.0 rating 0.8 (delay). Rated 0.9 (delay) specification can also be manufactured.
Voltage waveform distortion ratio
2% or less: at linear load
5% or less: at 100% load commutation
Transient voltage fluctuation
① Within ±5%: Sudden load change 0 ⇔ 100%
② Within ±2%: Sudden input voltage change ± 10%
③ Within ±2%: Grid power failure, grid power recovery
④ Within ±5%: UPS ← When switching directly
⑤ Within ±5%: When 1 unit is disconnected (only in parallel or parallel redundant systems)
However, the above ① to ⑤ conditions shall not overlap. Switching from UPS to direct feed depends on direct power feed characteristics.
Overload tolerance
110%: 10 min, 125%: 1 min, 150%: 10 sec
Rated current*1
100A/200A
150A/300A
200A/400A
250A/500A
375A/750A
Allowable peak current*1
300A/600A
450A/900A
600A/1200A
750A/1500A
1125A/2250A
Battery
Power outage backup
Short time
-
about 5 min
about 5 min
about 3 min
about 4 min
Standard time
about 10 min
about 10 min
about 12 min
about 10 min
about 14 min
Long time
about 25 min
about 21 min
about 35 min
about 25 min
about 25 min
Very long time
about 38 min
about 50 min
about 60 min
about 45 min
about 40 min
Nominal voltage
384V
Type
Small valve-regulated lead-acid storage battery (Service life expectancy: 5 years, at ambient temperature: 25℃)
Other values
Ambient temperature
−10 to +40°C (operating), recommended temperature: +25°C ±3°C
Relative humidity
30 to 90% (non-condensing)
70 dB (A) or less
Noise*2
65dB(A)以下
Heat generation quantity
about 2.0 kW
about 3.0 kW
about 4.0 kW
about 5.0 kW
about 7.4 kW
Withstand voltage
AC2000V 1 min
Insulation resistance
3 MΩ or more
*1 Indicates when the output voltage is 200 V / 100 V.
*2 Average peripheral measurement at 1 m.
Customizations other than the above battery are also possible. Please contact us for more information.