UPS7000HX-T3 Series
Features

Ratings and specifications
Features
High efficiency
The world's highest level of device efficiency at 97%
Reducing power losses in UPS equipment by 40% contributes to improved PUE * in data centers.
※PUE : Power Usage Effectiveness (電力使用効率)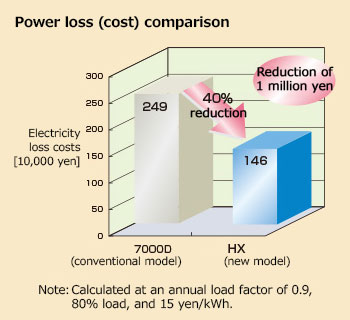 High reliability
Support for various high-reliability systems
We provide systems like common stand-by and parallel redundant systems that can continuously provide a supply of power 24 hours a day, 365 days a year.
Space savings
Compact, lightweight design
Reduced footprint of facility equipment enables space to be secured for server equipment.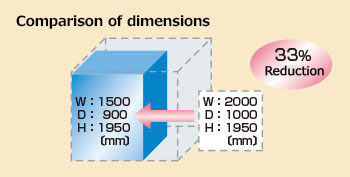 Weight savings
New power conversion
New three-level conversion technology using new device RB-IGBTs reduces switching losses and cuts harmonic components by half, enabling a high-efficiency, compact and lightweight configuration.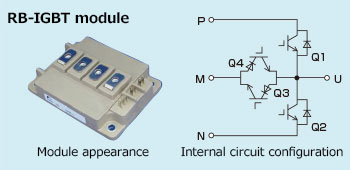 Ratings and specifications
Type
UPS7000HX-T3/500
Device capacity
500kVA
AC input
Number of phases
Three-phase, three-wire
Voltage
415 or 420 V (capable of supporting 440 V)
Voltage fluctuation range
±10%
Frequency
50 or 60 Hz ±5%
Input power factor
0.99 min.
DC voltage
Rated voltage
480 to 528V
Voltage range
400 to 588.7V
AC output
Rated capacity
500kVA
Number of phases
Three-phase, three-wire
Voltage
415 or 420 V (capable of supporting 440 V)
Frequency
50 or 60 Hz
Load power factor
1.0 (0.7 (lag) to 1.0)
Voltage accuracy (settling time)
±1.0% max.
Frequency accuracy
±0.01% (asynchronous)
Synchronous frequency range
±1% (Settings of ±2, 3, 4, 5% possible)
Transient voltage fluctuation
① ±3% max. at abrupt change of load 0% ⇔ 100%
② ±2% max. at power outage or power recovery
③ ±5% max. at direct feed ⇒ UPS switching time
④ ±5% max. when one unit is disconnected (redundant system)
Settling time
50ms
Voltage waveform distortion factor
2% max. (linear load), 5% max. (nonlinear load)
Voltage unbalance rate
±1.5% max.
Overload tolerance
125% for 10 min, 150% for 1 min, 200% for 2 sec
Total efficiency
97%
Number of battery cells
240 to 264 cells
Other
Operating temperature
0 to +40℃
Relative humidity
30 to 90% (non-condensing)
Altitude
1000 m max.
Noise
75 dB (A) max.
Customized battery solutions are also possible. Please contact our sales department for details.