Features
Realizes High-Speed Advanced Machine Control
Ultra-high-speed 1 ms controller
1 ms scan
Program scan time of 1ms is implemented by increased instruction processing speed.
Real number operation and high-precision positioning control have been put to practical use by dramatically improved floating-point operation speed.
| | SPH5000M/EC | SPH5000H | SPH3000(D) | SPH300 | SPH2000 | SPH200 |
| --- | --- | --- | --- | --- | --- | --- |
| Basic instruction LD | 4ns | 6ns | 9ns | 20ns | 30ns | 70ns |
| MOV | 4.4ns | 5ns | 8ns | 40ns | 40ns | 140ns |
| Floating Operation instruction | 25.3ns | 66ns | 88ns | 80ns | 270ns | 56000ns |
1 ms I/O refreshing
1024 points of I/O is refreshed in 1 ms.
Tact control assures a fixed I/O refresh interval. The I/O refresh cycle can be set to 1 ms, 2 ms, or up to 10 ms, which is suitable for processing requiring strict tact time.
The minimum tact times of SPH5000M, SPH300, and SPH2000/SPH3000 can be set to 0.25 ms, 0.5 ms and 1 ms,respectively.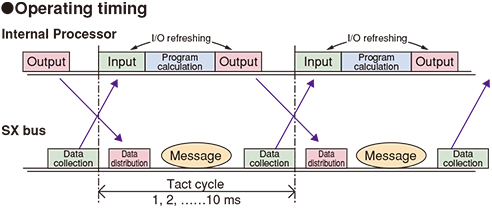 Tact cycle
E-SX bus
Tact cycle
0.25ms
0.375ms
0.5ms
1ms
1.5ms
2ms
Max. I/O size
(Number of I/O stations)
4 stations
67word
256word
512word
2048word
2048word
4096word
16 stations
-
-
256word
1024word
1024word
1024word
32 stations
-
-
-
512word
2048word
2048word
64 stations
-
-
-
-
512word
1024word
SX bus
| Tact cycle | 0.25ms | 0.375ms | 0.5ms | 1ms | 1.5ms | 2ms |
| --- | --- | --- | --- | --- | --- | --- |
| Max. I/O size | - | - | 64word | 128word | 256word | 512word |
Controller conforms to International Standard
Conforms to IEC 61131 international standard
Both the hardware and software conform to the IEC 61131 international standard for programmable controllers.
The programming language conforms to the IEC 61131-3 international standard.
Conforming to international standard
Conforms to the CE marking, UL standards and RoHS directive (conforming one after another) as well as IEC standard.
It also complies with the NK marine standard (Japan) and the LR (specifications of Lloyd's Register of Shipping, UK).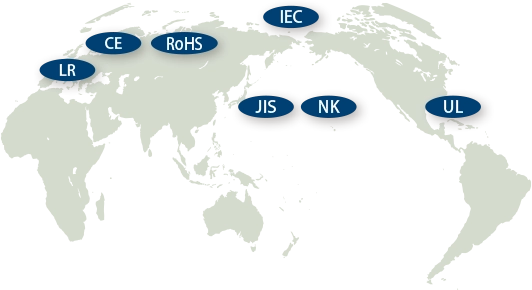 Multi-CPU system applicable to up to 8 CPUs
Parallel processing with up to 8 CPUs (SPH300/SPH2000/SPH3000/SPH3000D/SPH5000M)
Alleviates the load for each CPU allowing high-speed processing of a large application program. For example, the load can be distributed for advanced processing and sequence control processing with additional CPUs. I/O refresh control is performed automatically even if parallel processing by multiple CPUs is performed.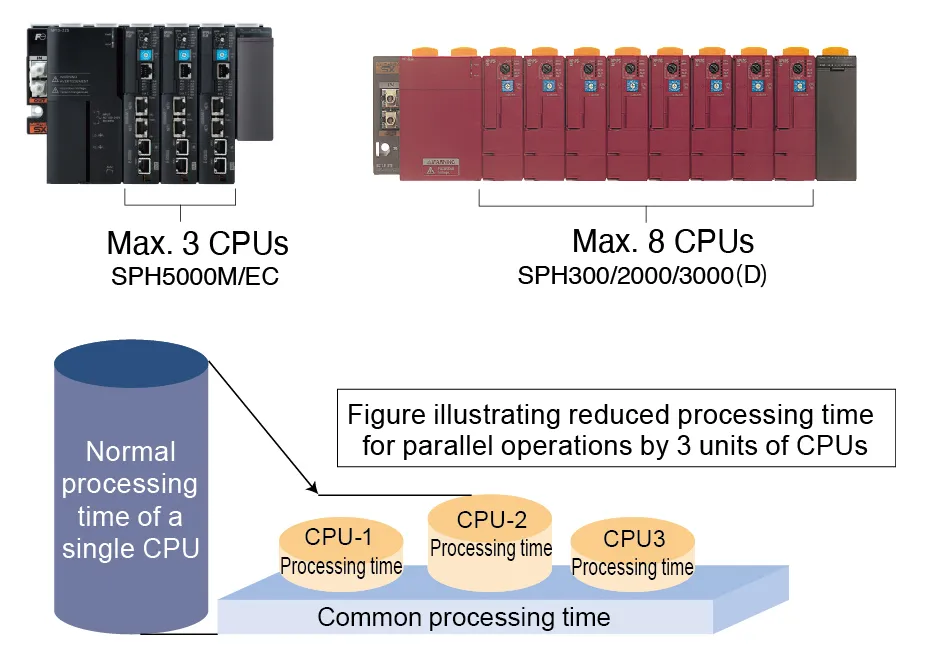 Redundant System Brings System Safety and Reliability
1:1 warm-standby feature (SPH300/SPH2000)
This redundancy configuration enables continued operation without system downtime if a CPU fails. (Control may temporarily stop due to fault detection and CPU changeover.)
The same program is stored in CPUs for the active and backup systems, allowing constant data value equalization.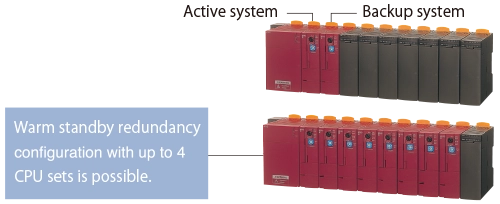 Highly reliable duplex system feature (SPH5000H)
Allows you to construct control systems that support redundant CPU, duplexed control network, duplexed I/O network, and loop network.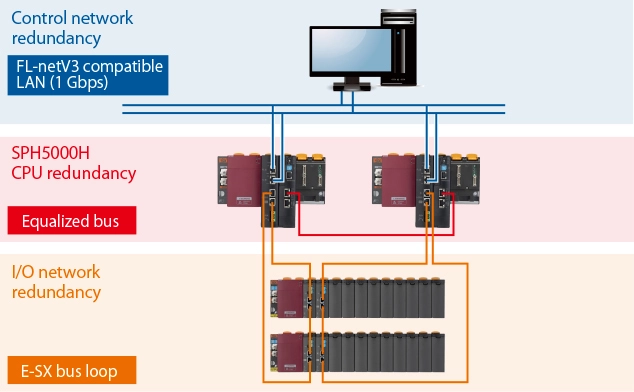 Ultra-high speed E-SX bus
Comparison of functions and performances between the E-SX bus and the SX bus
Function and performance
SPH3000(D)
SPH5000M/H, 3000MM/MG
System bus
SX bus
SX bus
E-SX bus
Direct connection I/O capacity
512word
512word
4096word
Refresh performance
128word/ms
128word/ms
2048word/ms
Transmission speed
25Mbps
25Mbps
100Mbps
Tact fluctuation
100µs
100µs
±1µs or less
Synchronization between stations
None
None
Provided(±1µs or less)
Distance (between stations/total distance)
25m/25m
25m/25m
100m/1km
Continued operation with the line broken (Loopback)
None
None
Provided
Synchronization control of E-SX bus
Synchronization in the bus
Data output timing is synchronized in the E-SX bus.

Synchronization between buses
Data output timing is synchronized between channels of the E-SX bus.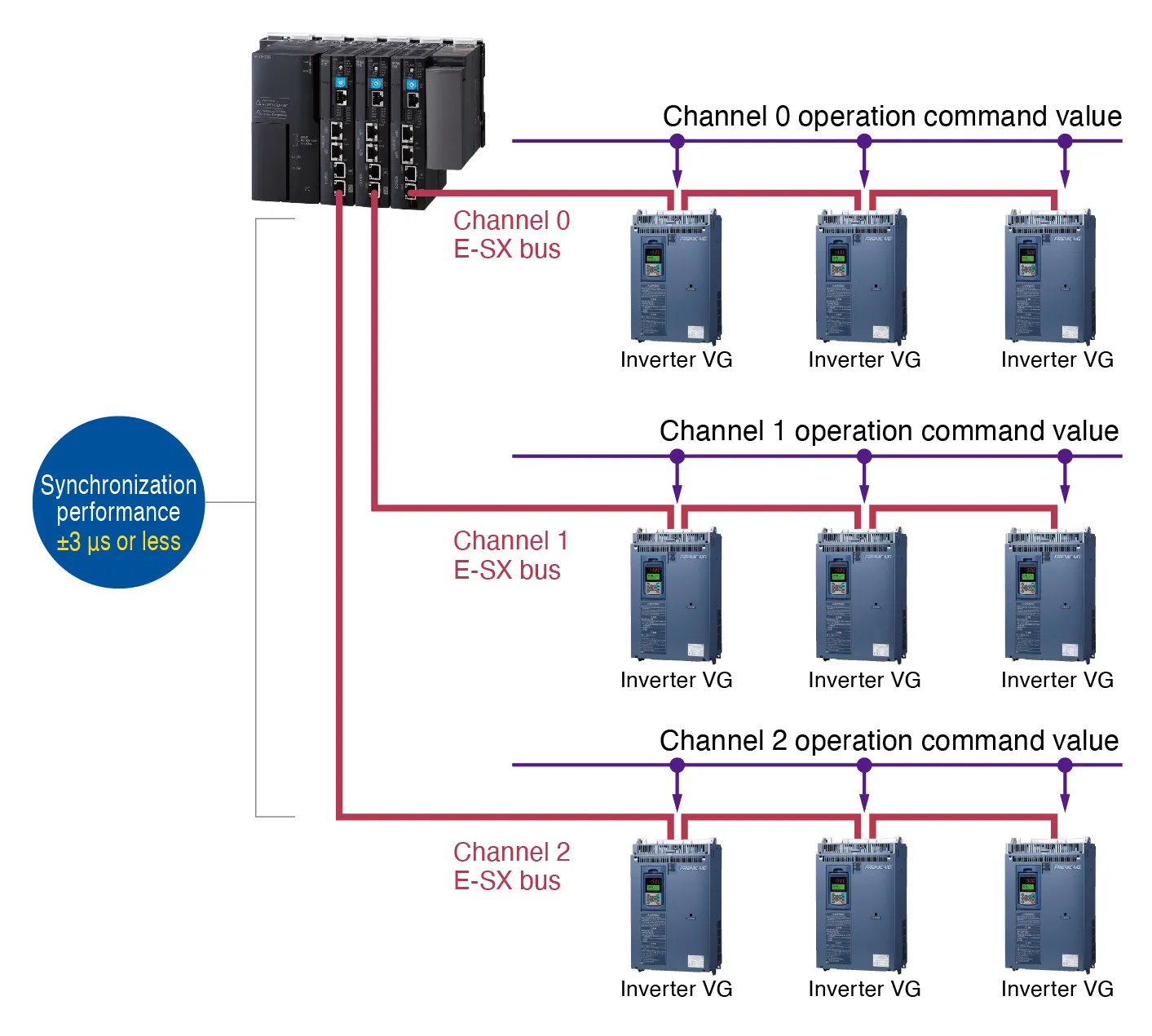 Connection function of the E-SX bus
Loopback function
Communication is continued by the signal repeater function even when a wire is broken.

Signal bypass function
Even when a power of some devices is not turned on, the communication is continued by the auxiliary power unit.

Technical information
Catalog