Solutions and Case Studies
At the same level of importance as water and electricity in today's social infrastructure.

Contributing to the stability of Internet and communication environments with our total data center systems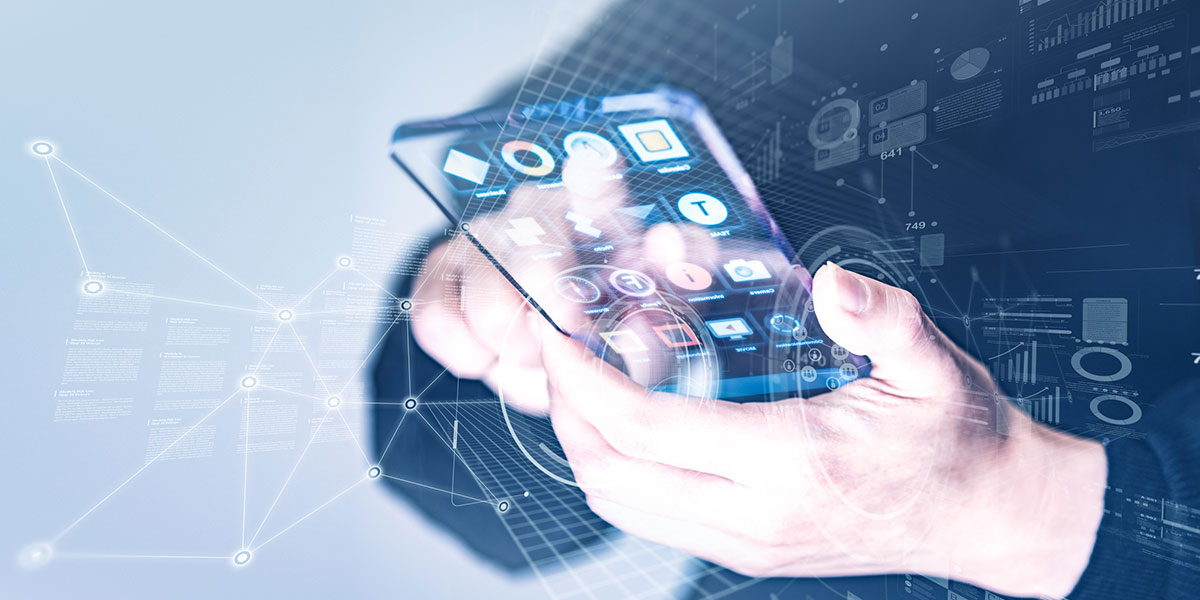 Social infrastructure that supports Internet and communication services
The Internet has now become the foundation of the social infrastructure used for all social, cultural, and economic activities, and as such, it is an essential part of our daily lives.
Data centers are one of the key components of the social infrastructure that support Internet and communication services by providing protection, maintenance, and operation services for the servers that store critical information as well as the circuits that connect to the Internet. With the recent increase in the use of cloud computing for information systems and the progress of e-commerce, the construction of data centers has been on the rise globally, and the size of this market has been expanding at a rate of about 10% annually.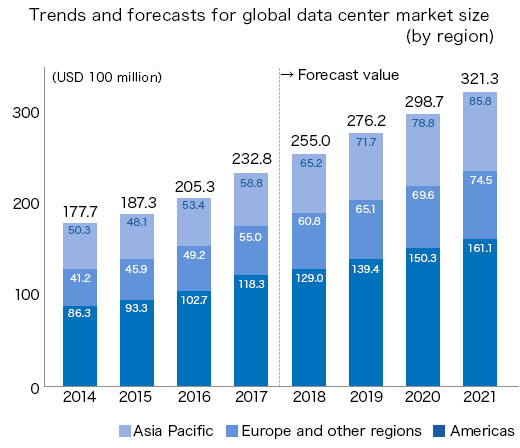 The data center market has been expanding.
Source: Created based on "Trends in ICT Supporting the Digital Economy," Ministry of Internal Affairs and Communications.
(https://www.soumu.go.jp/johotsusintokei/whitepaper/eng/WP2019/chapter-1.pdf#page=8)
Data center issues involve power supply stability and energy savings
If the power supply to the electrical equipment installed in a data center is cut off, data will be lost and the Internet and communication services will shut down. In addition, since a data center uses a huge amount of electricity, there are also concerns about its impact on global warming. With this as a backdrop, the stable operation of the electrical equipment and the saving of energy have become major issues for data center operators.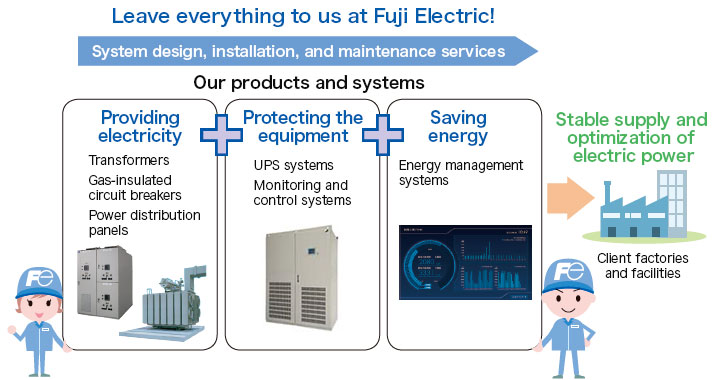 Fuji Electric is one of only a few companies with this capability worldwide
Contributing to the stability of Internet and communication environments with our turnkey electrical equipment proposals
Utilizing the capabilities of our departments in the system design and installation of electrical equipment for data centers as well as our field services, we can undertake turnkey installation and maintenance services that contribute to the stable supply and optimization of electric power.
Only a few companies in the world can offer turnkey proposals for such electrical equipment, and this is a solution that is unique to Fuji Electric. In addition, we have an extensive lineup of electrical equipment that is essential for data centers, with a focus on substation equipment—transformers and circuit breakers—with support for a wide range of capacities from low voltage to extra-high voltage (100 V to 168 kV). Another feature of Fuji Electric's capabilities is that we design and manufacture in-company nearly all of the power systems and equipment such as the uninterruptible power supply (UPS) systems and in-house power generators.
Essential components for unstoppable facilities
High-efficiency and high-reliability UPS systems
A UPS is an essential device for data centers that operate critical systems and cannot be suddenly stopped. A UPS is an uninterruptible power supply device that continues to supply stable power in the event of a power outage. Fuji Electric UPS systems are equipped with power semiconductors that we have developed in-company and achieve the highest level of conversion efficiency in the industry. In addition, our specialist engineers perform maintenance and inspections of the UPS as well as the batteries, and this contributes to the reliability of the equipment. With their high efficiency and high reliability, Fuji Electric UPS systems are used in a variety of data centers in Japan and abroad.
Large-capacity UPS 7000HX Series (shown at right). Equipped with power semiconductors that we have developed in-company, our UPS 7000HX series products achieve the industry's highest level of device conversion efficiency at 97%.