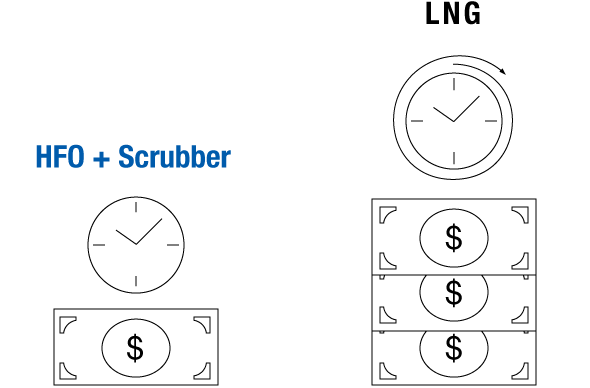 Capex
LNG fuel in itself may be inexpensive, but the costs in money and time needed to retrofit or new-build a ship with a dedicated LNG propulsion system are very high. By comparison, SOx scrubbers require a smaller initial investment and take less time to install.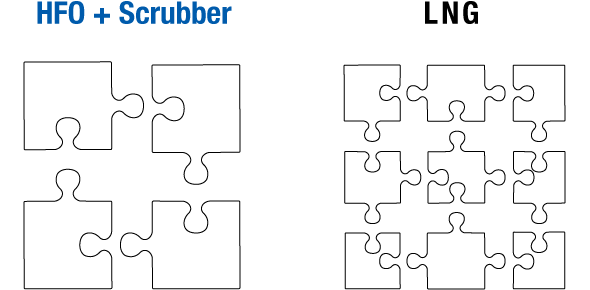 Complexity
Once installed, an LNG-burning system is complex, requiring additional measures to ensure safe operation, maintenance and refuelling. The lack of a consistent regulatory framework for safety and security protocols poses an additional problem. SOx scrubbers need relatively little attention and maintenance.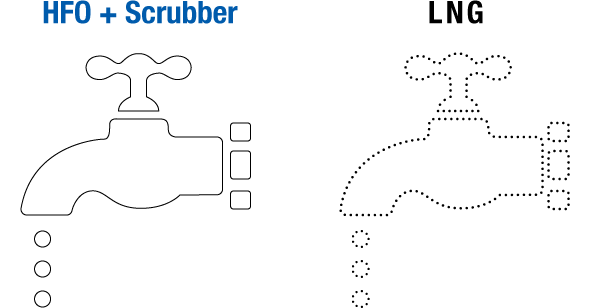 Availability
The clear lack of adequate distribution infrastructure for LNG raises doubts about its availability in the future. Despite the attractive potential of LNG, its availability—or lack—puts it at a major disadvantage. By contrast, SOx scrubbers allow the ongoing use of abundant, inexpensive HFO while meeting IMO and other regulations.

Cargo capacity
LNG loses the vital race for space. In 2011, a joint study conducted by Germanischer Lloyd (currently DNV GL) and MAN Diesel and Turbo estimated that LNG tank storage can consume as much as 3% of a container ship's TEU slots, directly impacting profitability. SOx scrubbers only take up at most 0.3% of available TEU slots. Thus, by far, SOx scrubbers are the more compact solution, allowing for greater profitability.
*Costs and benefits of LNG as ship fuel for container vessels: Key results from a GL and MAN joint study
MARPOL Annex VI, 0.1% S (existing)
Additional regulations (existing and upcoming)
Stricter CO2 emission regulations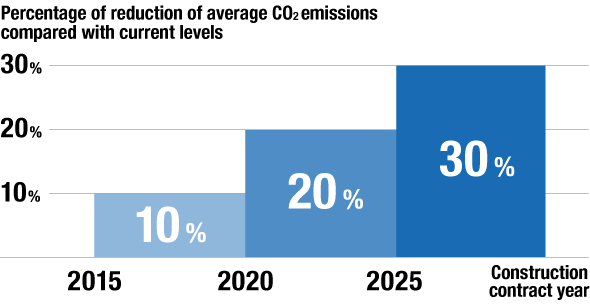 On 1 January 2013, in accordance with Annex VI of the MARPOL Convention, the IMO mandated the implementation of the Ship Energy Efficiency Management Plan (SEEMP) for all ships. Ship operators have since been required to devise plans to reduce emissions of CO2 and other greenhouse gases. The graph above shows the target CO2 reduction levels.
Tighter SOx and PM regulations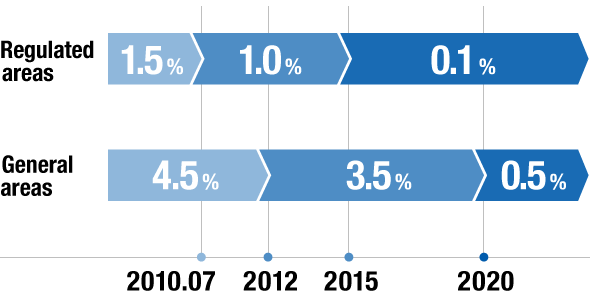 In accordance with Annex VI of the MARPOL Convention, the IMO set these limits for sulphur in ships' fuel. The latest limit of 0.5% outside Emission Control Areas (ECAs) will be implemented in 2020.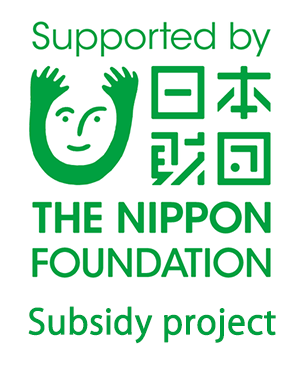 Creative use of space and resources is a hallmark of ship design, and it is the guiding philosophy behind Fuji Electric's SOx scrubber and laser gas analyser.
Fuji Electric's solution, SaveBlue, is an exhaust gas cleaning system (EGCS) that allows continued use of heavy fuel oil (HFO): it has open-loop and closed-loop operation modes. With a compact size that facilitates ease of installation, it is suitable for both retrofitting and new builds.
Contact Us
Power Electronics Systems Energy Business Group Field Service Division
Commercial and Marketing Office Industry Department
Tel: +81-3-5435-7038 Mon.- Fri. 9:00 - 17:00 (JST)