Power System Simulator
Real-time simulation for "power flow" and "data flow"
Objectives

Analysis of grid faults and impact to the grid with a high penetration of renewable energy
Verification and assessment of grid control systems and grid stabilization systems
Verification when introducing into the grid development products such as IED*s for protection relays or smart-inverters that conform to the IEC 61850 / 61588 standards


*

intelligent electronic devices
Real-time simulation for "power flow" and "data flow"
Our power system simulator can simulate the power flow and data flow by supplying electricity to the miniaturized power grid.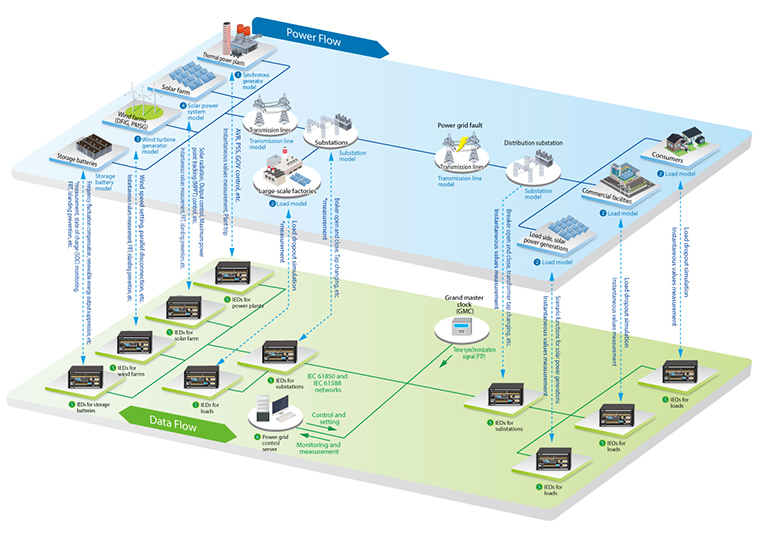 Power Flow

Power equipments in the grid, which are power plants, substations, transmission lines and loads, are simulated by some models of miniature power equipments. Users can flexibly create a "miniaturized power grid" by connecting the several models following the target power gird, and re-create an actual power grid by flowing a small electric current in the miniaturized power grid. These simulations make it possible to analyze grid faults in real-time and the impact to the power grid as well as countermeasures with a high penetration of renewable energy.
Data Flow

With a data network that conforms to the IEC 61850 and IEC 61588 international standards, and using intelligent electronic devices (IEDs) and merging units (MUs) that installed in each model, it is possible to measure, monitor and control the entire miniature grid just like an actual grid.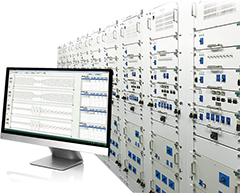 Features
High reproducibility for grid phenomena
Compared with digital simulators, reliable simulation results to be acquired by simulating as actual electric phenomena.
High-resolution and long-time analysis
High-resolution analysis of grid phenomena is possible from an instant (ms order) to a long time (24 hours).
Renewable energy resources compatible
Real-time simulation of grid phenomena with a high penetration of renewable energy. Can also be used as equipment for education and research.
HILS* compatible
Actual devices such as control equipment and protective equipment can be connected to this simulator and the verification of actual devices operation and impact to the grid can be analyzed.


*

Hardware In the Loop Simulation

Comparison with other company
Model
Comparison item
Fuji Electric
Company R
Synchronous generator model
Calculation speed
○
△
IEC 61850 compatible
○
△
HILS compatible
○
○
Solar power system model
Calculation speed
○
△
FRT functions
○
×
Islanding prevention
○
×
Wind turbine generator model
Calculation speed
○
△
Two generator types implemented
○
○
Binding with analog part
○
×
Load model
Calculation speed
○
△
Aggregate simulation of solar power
○
×
FRT functions
○
×
○

: Supported

△

: Partially supported

×

: Not supported
Catalog