Fuji Electric DC High-speed Vacuum Circuit Breaker
Fuji Electric DC High-speed Vacuum Circuit Breaker
Device features
Substation maintenance can be greatly streamlined

With arcless circuit interruption, dramatic reductions in maintenance can be planned, and other maintenance-saving equipment and maintenance cycles can be synchronized.

Energy-saving features

Low loss and low energy operation help to save energy. The dry capacitors used are incombustible and eco-friendly.

Large current interruption performance

The high breaking capacity and faster opening time of the vacuum valve have achieved a 100 kA circuit interruption.

Total area interruption performance

From large to small current, all current can be reliably interrupted. Large load current can also be securely turned on.

High operating reliability

High operating reliability is achieved through redundant configuration of critical components, high noise-resistant design, as well as clarification of periodic replacement parts.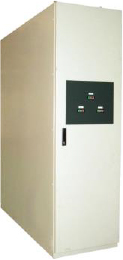 Internal structure of device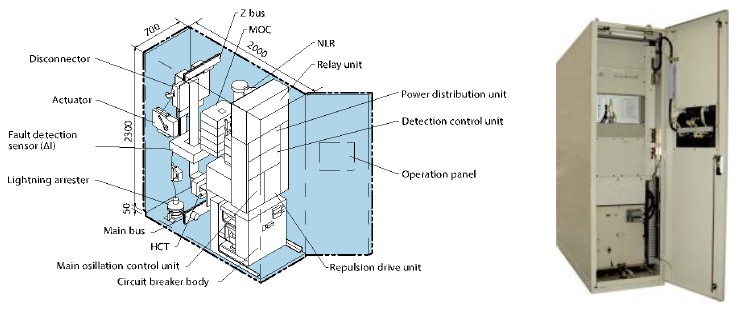 Device specifications
Item
Description
Device name
DC high speed vacuum circuit breaker
Applicable standards
JIS E2501-1 (2010) "Railway applications - Fixed installations - DC switchgear - Part 1: General"
JIS E2501-2 (2010) "Railway applications - Fixed installations - DC switchgear - Part 2: DC circuit-breakers"
Structure
Indoor-use (outdoor-use) cubicle type switchgear (JEM1425-CW) (draw-out type, main circuit with shutter)
Protection class
IP2X
Circuit breaker body type
HX5001X- Mf-DA( : 20, 30, 40)
HX10001X- Mf-DA( : 20, 30, 40)
Device type
VDC215-P
VDC208-P
VDC215-T
VDC208-T
Rated voltage
DC 1500 V
DC 750 V
DC 1500 V
DC 750 V
Rated voltage
4000 V or less
2500 V or less
4000 V or less
2500 V or less
Rated breaking capacity
50 kA (at 3×106 A/s)
100 kA (at 10×106 A/s)
Maximum cut-off current
25 kA or less
36 kA or less
Rated current
2000A/3000A/4000A
Operating duty cycle
O - 10 sec - CO
Rated short-time withstand current
1 sec, 75 kA
Current detection method
Forward overcurrent detection (built-in reverse current relay function) *
Setting current scale
4 kA to 12 kA, 2 kA to 6 kA, 1 kA to 3 kA
Final selection rate
50% (Configurable to use or exclude)
Operation
methods
Closing operation method
Electric-spring method, 1.7 A, 2 sec
Contact opening method
Electromagnetic repulsion drive system
Commutation method
Capacitor commutation method
Arc suppression method
Energy absorption method using zinc oxide elements
Guaranteed
number of
operations
Mechanical opening and closing
10,000 times
Short-circuit current interruption
100 times
Withstand
voltage
Main circuit
5500 V AC, 1 min; lightning impulse 20 kV
Control circuit
1500 V AC, 1 min; lightning impulse 4.5 kV
Insulation distance
Air gap 30 mm, Creepage distance 50 mm or more
Rated operation and control voltage
DC 100 V, DC 110 V
Rated auxiliary power voltage
Single-phase 210 V AC
Auxiliary
switches
Contact configuration
3a+3b (External use)
Switching capacity
5 A (DC 100 V, DC 110 V)
*: Bi-directional overcurrent detection type can also be manufactured.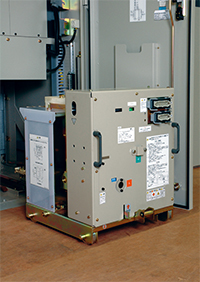 Circuit breaker main body