The world's smallest SOx scrubber sets sail.
Delivering peace of mind and sustainability to ship operators.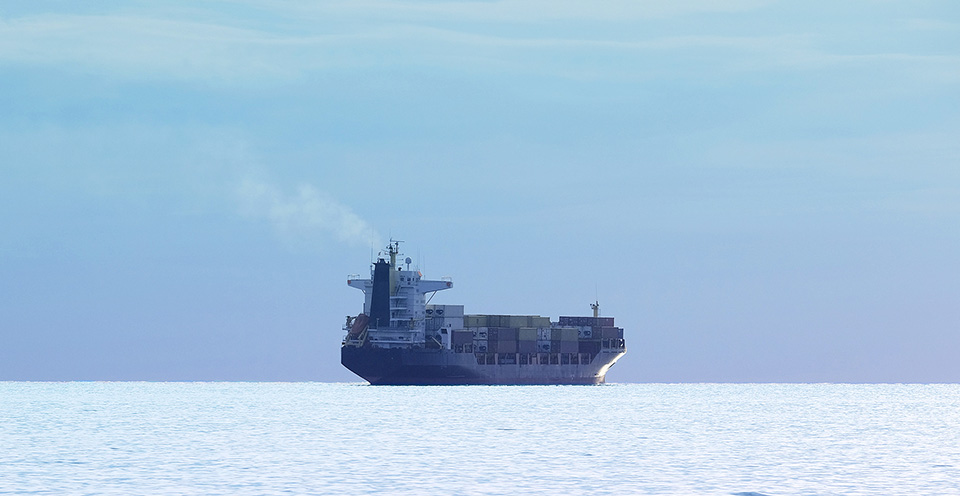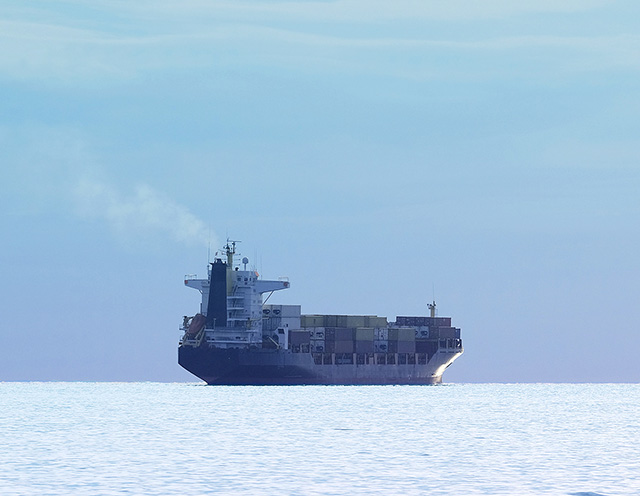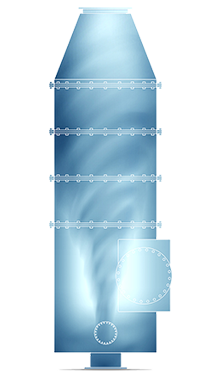 Cyclone method
Fuji Electric's SOx scrubber for ships is the first to use cyclone technology for its internal structure. From inside the scrubber, a highly diffused spray of wash water increases contact between exhaust gases and liquid droplets, removing SOx by absorption. Because the cyclone method makes a mixing plate – which needs regular maintenance– unnecessary, it also makes for lower maintenance costs.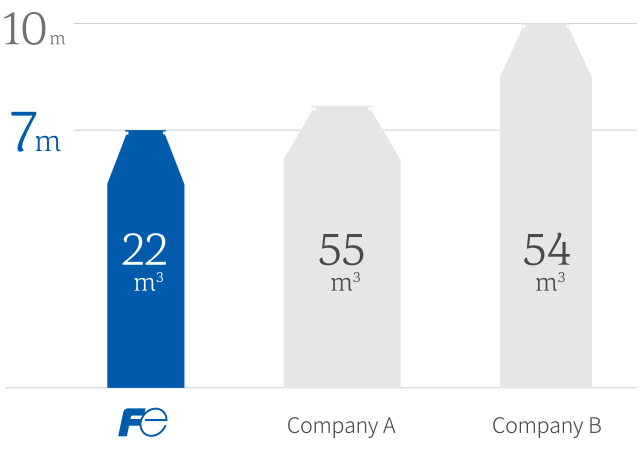 The world's smallest SOx scrubber
With the need to maximize space in ships, compactness is a crucial factor to consider when choosing a SOx scrubber. As a result of adopting cyclone technology, Fuji Electric's SOx scrubber keeps pressure loss down to less than 1kPa, and has achieved a significant downsizing. Our SOx scrubber for a ship with a 10MW engine is two meters in diameter and seven meters tall. Compared to other SOx scrubbers in the market, in terms of volume, our scrubber is 50% more compact, which also means that it is lightweight, facilitating installation in ships.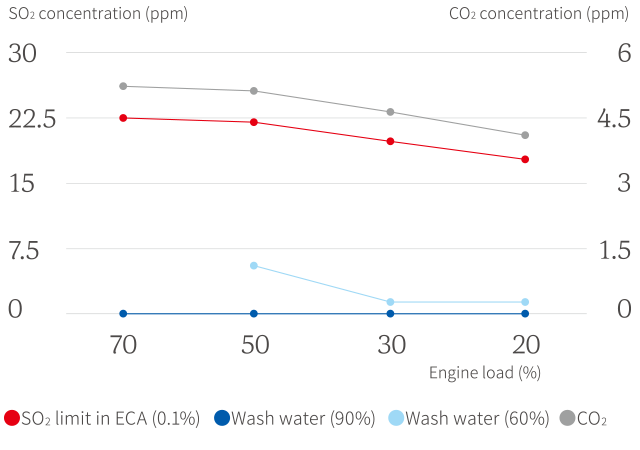 Removes over 98% of SOx
Fuji Electric's SOx scrubber can remove over 98% of sulphur in exhaust gases. Its operation can be optimized based on engine load, minimizing fuel consumption and the impact on operating costs. This is the result of the technological expertise and experience that Fuji Electric has accumulated over the years.
R&D Activities: SOx Removal Cyclone Scrubber for Marine Vessels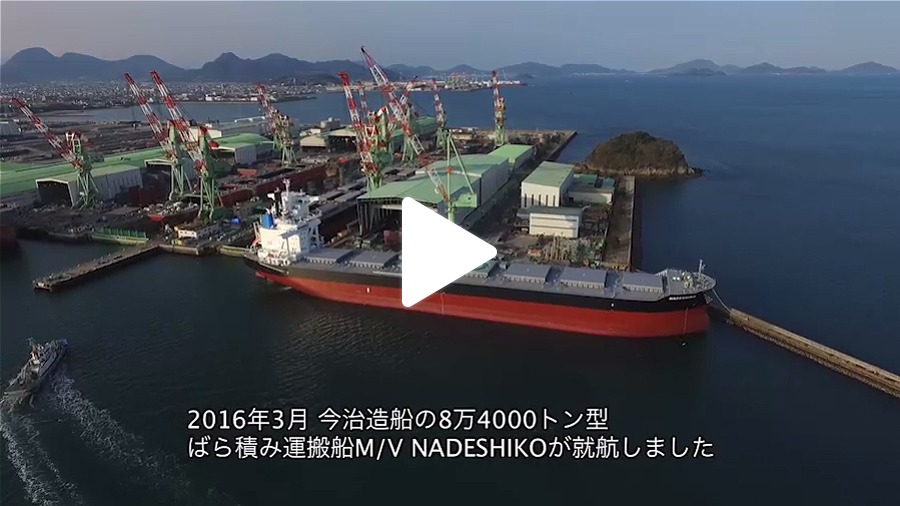 Onboard testing of a SOx scrubber for a main engine (M/V NADESHIKO) (01:57)
In March 2016, Fuji Electric provided the EGCS (exhaust gas cleaning system) for a test called "Installation of an exhaust gas cleaning system (EGCS) for a main engine on an operating new-build vessel, and a practical test of a closed-loop mode", a joint R&D effort that was supported and promoted by ClassNK and Imabari Shipbuilding Co., Ltd. This marked the first time in Japan for a SOx scrubber to be installed on a bulk carrier.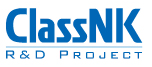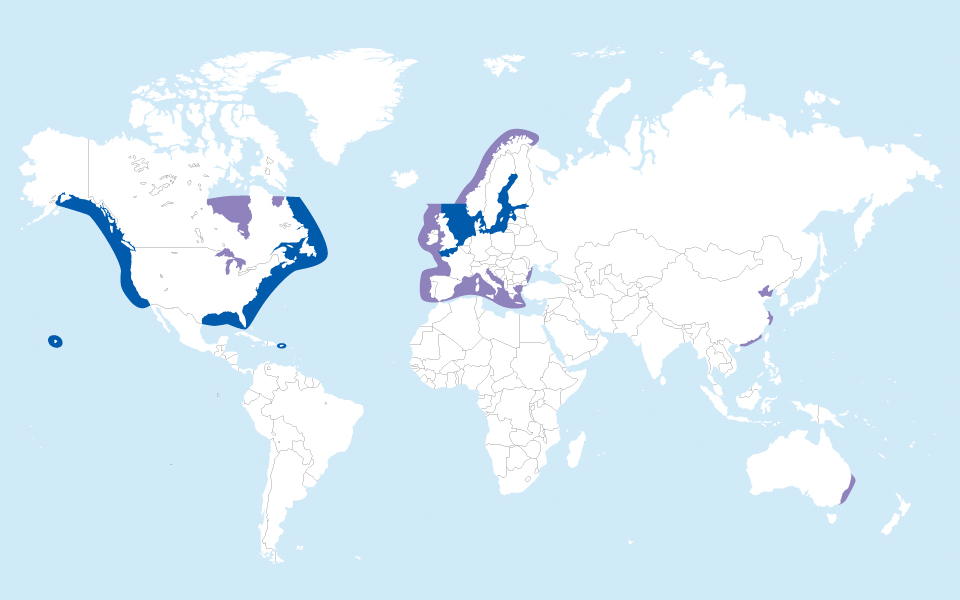 ● MARPOL Annex VI, 0.1% S (existing) ● Additional regulations (existing and upcoming)
Strengthening of CO2 emissions regulations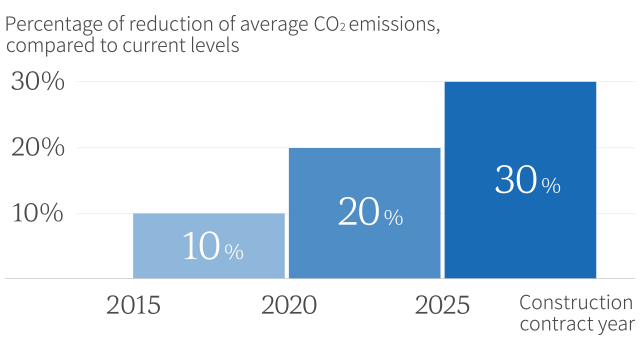 On 1 January 2013, in accordance with Annex VI of the MARPOL Convention, the International Maritime Organization (IMO) mandated the implementation of the Ship Energy Efficiency Management Plan (SEEMP) for all ships. Ship operators have since been required to devise plans to reduce CO2 emissions and other greenhouse gases. The graph above shows the target CO2 reduction levels.
Strengthening of SOx and PM regulations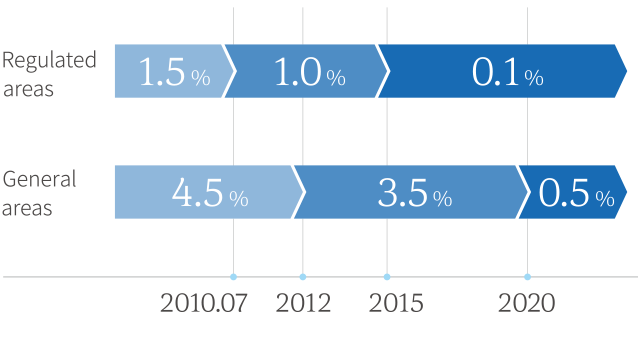 As per Annex VI of the MARPOL Convention, the IMO set these limits for sulphur in ships' fuel. The latest limit of 0.5% outside Emission Control Areas (ECAs) will be implemented in 2020.
From land to sea, your one-stop provider of energy solutions for a cleaner planet.
For more than 90 years, Fuji Electric has been innovating electric and thermal energy technologies, which form the core of society's electricity use. We cover a broad range of business segments, from Power Electronics Systems, Power and New Energy, and Electronic Devices, to Food and Beverage Distribution. Our aim is to bridge the gap between energy concerns and the health of the environment.
Throughout decades of working to optimize energy use and minimize environmental impact on land, Fuji Electric has managed to meet stringent land-based standards. We are now extending our goal to the oceans, to meet a new frontier of environmental regulation.
Taking our years of experience from land to sea, we seek to provide customers with an environment-friendly, energy-saving solution for ships. This sentiment is conveyed in the SaveBlue concept.
Creative use of space and resources are timeless hallmarks of ship design, as well as the guiding philosophy behind Fuji Electric's SOx scrubber and laser gas analyser.
With the IMO set to implement new worldwide SOx emission limits in 2020, as well as the existence of additional emission regulations in certain countries or regions, the maritime industry must look into all feasible methods for compliance.
Fuji Electric's solution, SaveBlue, is an exhaust gas cleaning system (EGCS) that allows continued use of heavy fuel oil (HFO), and has open-loop and closed-loop operation modes. With a compact size that enables ease of installation, it is suitable for both retrofitting and new builds.