Rectifier Diodes
Fuji Electric's rectifier diodes have features such as low VF and low IR, and are compatible with PFC circuits of power supplies and secondary-side rectification circuits.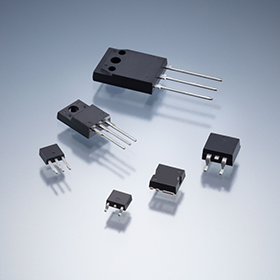 Type Search
Parametric Search
Features
Fuji Electric's rectifier diodes are used in a wide variety of fields, including consumer and industrial equipment applications and vehicle-mounted applications.
SBD (Schottky Barrier Diode)
High temperature operation is possible via a Tj=175°C guarantee, and we have a lineup that includes the "Low IR Schottky Series" capable of reducing the risk of thermal runaway.
LLD (Low Loss Diode)
These diodes are characterized by their low noise as a result of soft recovery and low loss via low VF characteristics.
Super LLD2 Series (For Criticality Mode PFC)
Super LLD3 Series (For Continuous Mode PFC)
These products contribute to the improvement of power supply efficiency.
PAGE TOP