UPS for Medium Voltage Distribution UPS 8000H
Solutions for Voltage Sags and Energy Saving inMedium-Voltage Distribution Power Supply

Large Capacity Uninterruptible Power Supply Systems for M.V.
Voltage sags and momentary interruptions have always existed in power systems. In the past, low-voltage UPS and other various methods had been implemented against interruptions and sags.
In recent years, however in industrial field, production equipments are becoming very sensitive and occurrence of the interruptions and sags are becoming unacceptable.
But in terms of cost effectiveness and complicated machinery maintenance, it is difficult to implement a reliable device in individual equipments.
In order to meet the market needs, as a sag protection, Fuji Electric has commercialized the UPS8000H Series (large capacity uninterruptible power supply systems for 3.3kV, 6.6kV Circuit) using lithium ion capacitor as energy storage device. UPS8000H Series were successfully supplied to manufacturers having sensitive equipments, such as customers in semiconductor industries, precision machined industries, and internet data centers.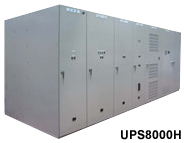 Product Features
System Diagram
UPS8000H Series supplies power from distribution substation to the Load through Semiconductor Switch and charges electricity in Energy Storage device at the same time. When detecting the voltage sags or momentary interruptions, Semiconductor Switch will break the main circuit in high-speed and Converter Unit will begin discharging from Energy Storage to the Load without any interruptions.

System Configuration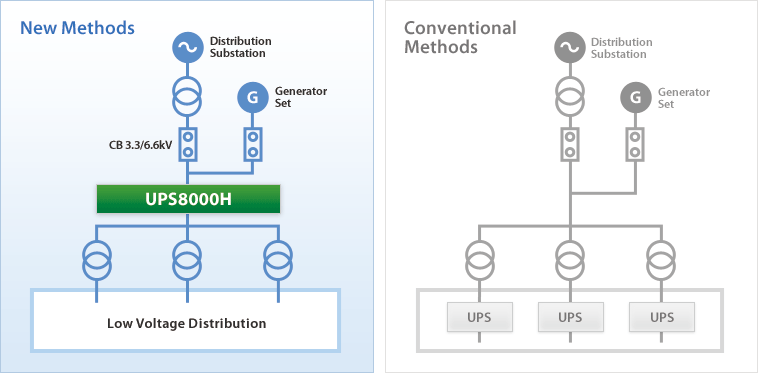 Specification
UPS8000H Medium-Voltage Uninterruptible Power Supply System
Power storage device
Lithium ion capacitor
Lead-acid batteries
Energy storage & Power outage compensation times
2-10sec
5min
Equipment efficiency
99.3% and more
99.6%
Transfer time
Less than 2 ms
Less than 4 ms
Operation Voltage
6.6kV/3.3kV(Input Voltage ±10%)
Frequency
50/60 Hz
Rated capacity
2,000 kVA - 12000 kVA (per unit 2000kVA)
System Configuration
parallel redundant system (exceeds 2000kVA)
Rated load power factor
0.8 (during power outage)
Output voltage accuracy
± 3% (during power outage)
Standard
Japanese Standards