Standardized basic dimenstions

The height and depth dimensions are identical in all sizes to 3200A. There are four common widths or frame size, from 800-2000A , from 2500-3200A, 4000A and 5000-6300A for the standard series.
The panel cutout size is the same for all types of DH series ACB, which makes it easy to arrange the ACBs in switchboards. Maximum power from minimum volume was central to the design specification. With a depth of 290mm for the fixed type and 345mm for draw-out, it is one of the smallest ACBs in the world. ACBs with front connections are available off-the-shelf. Front connections are especially suitable for smaller-depth switchboards.
Geared toward the smallest depth in the world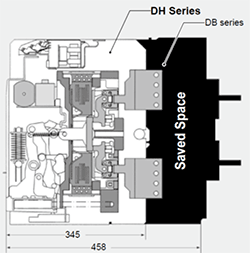 Direct connection of the isolating main contacts to the hinges of the fixed main contacts eliminates the need for intermediate conductors. Allowing the DH series ACBs have the world's smallest depth resulting in space saving in switchboards. More than twenty design patents have been registered for the DH series ACB.
Increased accessibility from the front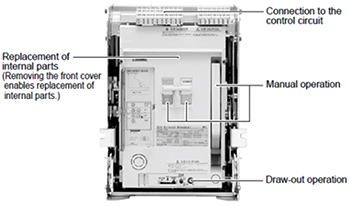 It enhances ease of installation, operation, and maintenance. The double insulated design ensures that most accessories can be safely and easily installed by the user. Control, auxiliary and position switch terminals are mounted at the front on the ACB body for easy access. Due to the increased level of harmonics within the distribution network, the neutral phase is fully rated as standard.
No extra arc space required, vertical stacking permitte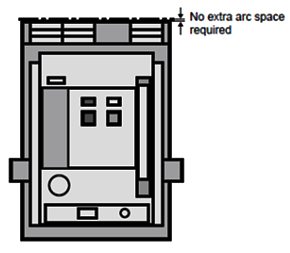 The DH series ACB dissipates all arc energy within its unique "Double Break" arc chamber. The internal energy dissipation within the ACB allows the clearance distance of the ACB to nearby earthed metal to be zero. This will assist in minimizing switchboard height and costs.
Very fast interruption by "Double Break" system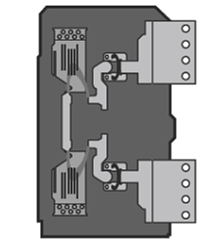 The unique "Double Break" main contact system ensures extremely fast interruption of short-circuit currents and substantially reduces main contact wear. The internally symmetrical "Double Break" structure allows reverse power connection.
There are no clamp screws or flexible leads in the main circuit contact units. This substantially enhances the durability of the main circuit contact units and improves reliability in ON-OFF operation.
Enhanced selectivity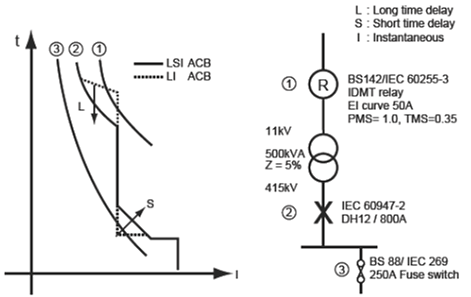 Fuji is so concerned about selectivity that all our protection relays have 'LSI' characteristics as standard. This provides an adjustable time delay on overload (L) and also the l2t ramp characteristic (S). As shown, these are essential to provide selectivity when grading with other protective devices such as downstream fuses and upstream relays. The standard 'LSI' curve provides more than five million combinations of unique time current characteristics. Zone selective interlocking is available to provide zero time delay selectivity. As the rated breaking capacity is identical to the rated short-time withstand current full selectivity can be achieved.