Digital Thermostat <PAS3>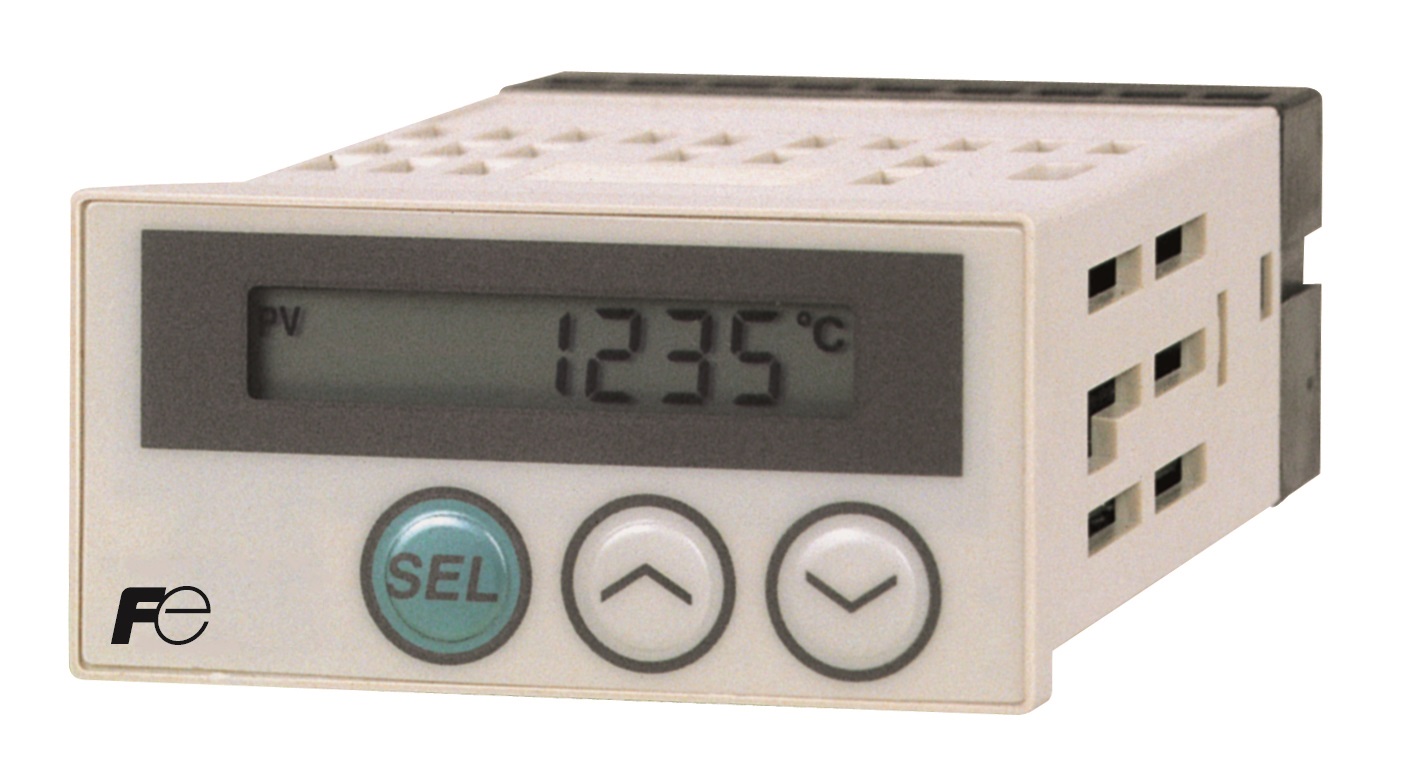 Temperature alarm with on/off contact output, DIN 24 x 48 mm size
Suited for overheat detection of thermocouples or thermistors used in machines or equipment.
Accepts thermocouple input or thermistor input
Allows you to quickly check alarm setpoint and process value
Front waterproof structure equivalent to NEMA-4X standard
Two relay-contact outputs available optionally
Optional DIN rail mounting adapter allows rail-mount or wall-mount
UL and C-UL certified
Specifications
No. of input
1
Range & accuracy
Type J thermocouple: 0–800°C, accuracy ±3°C
Type K thermocouple: 0–1200°C, accuracy ±3°C
Type R thermocouple: 0–1600°C, accuracy ±4°C
Type T thermocouple: 0–400°C, accuracy ±3°C
Type E thermocouple: 0–600°C, accuracy ±3°C
Thermistor: 0–100°C, accuracy ±4°C
Note 1: Switching between thermistor and thermocouple is not allowed.
Note 2: Thermocouple type setting can be changed by front key operation.
Note 3: Reading error of thermistor sensor or thermocouple is not included.

Measurement cycle
≤ 2 s
Burnout
Thermocouple (UUU), thermocouple (LLL)
Input correction
Configurable within ±10% of range
Display
LCD (with no backlight)
Measured value, alarm setpoint, °C scale, alarm indicator, parameters
Operation keys
3 sheet-type keys
Alarm value setting resolution: 1°C
Key lock available

Alarm output
SPST 1 or 2 points
High or low limit alarm (HL, HH, LL are available on two outputs version)
Mechanical life of contact: ≥ 20 million times (100 times per min)
Contact capacity: 220 V AC or 30 V DC, 2 A (resistive load)
Alarm hysteresis width: configurable within 0–110% of range

Power supply voltage
100–240 V AC, 50/60 Hz
Operating environment
0–50°C, RH90% or less (non condensation)
Mounting
Panel mount
Optional DIN rail mounting adapter (ZZP*CTK368715P1) allows rail-mount or wall-mount
Dimensions and weight
24 × 48 × 85 mm, approx. 100 g
Terminal
Plug-in type (rod terminal)
Others
For thermistor input version, a thermistor sensor is provided.
Temperature Controllers